The 12-song album "eSensuals" by Oakland CA, Las Vegas-based Fans of Jimmy Century features previously released singles "All My Friends Are Ice Queens," "Best of My Generation (Johnny Rotten)," and "Tigra Girl". Fans of Jimmy Century (FOJC)  is an original indiewave, modwave, neo noir duo with trip hop influences, led by vocalist/songwriter/voice actor Alicia Perrone and bassist/songwriter/producer/video director Victor James. In 2013 they signed a 2-single deal with Bungalo/Universal Music Group, through whom they released their well-received single "Va Va Voom to the Moon". They left the deal and continued to self-release in 2015. After which their song, "Delicate Fever," was featured in the Warner Bros. film "Get Hard" with Kevin Hart & Will Ferrell.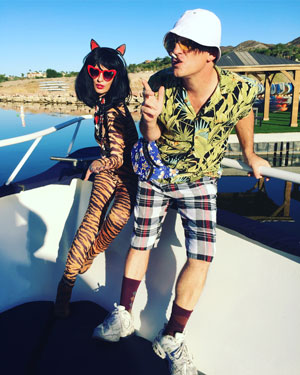 More Sync placements followed, including for Gossip Girl, Forever 21, Finding Nemo 3D, E News Live, Hall Pass, Bad Teacher, Ray Donovan, Law and Order: SVU, Betsey Johnson XO, Melrose Place, Housewives of NYC and more. "Hot Sahara," their most popular sync song to date was best known for its prime time feature on Showtime's The L Word during the infamous threesome scene, aka the Hot Sahara scene.
The "eSensuals" album is a must for anyone who enjoys catchy tunes. Cleverly crafted, slickly produced, high energy songs that are insanely fun to turn up loud and sing along to, even when the lyrics venture over to the cryptic side. Perfect for a night hanging with friends, a summer road trip, or a day at the beach. Although it's much more than that.
Their songs may be fun and catchy but they have a hard edge to them. You'll quickly realize that Fans of Jimmy Century is a whole lot deeper than you originally thought. Heavy beats and squelching synths are more than likely to run under coy baby doll vocals and sweetly rich harmonies. Front lady Alicia Perrone has everything it takes to be a big female pop star.
Her voice can carry huge choruses, she's able to remold her image at the drop of a coin, and she has a classically mischievous face attached to a double-take body. Musical anchorman Victor James brings plenty of glossy production and danceable thumps to the table making sure Fans of Jimmy Century have plenty of show-stopping material on hand.
From the moment the slinky "All My Friends Are Ice Queens", kicks in, I found "eSensuals" to be a pretty astonishing mix of art, sensitivity, societal discourse and effervescent attitude. There is a surprise around every corner with FOJC.
By the time I had listened through the electro goodness of the sultry "Tigra Girl" and the edgy "Best of My Generation (Johnny Rotten)", I was amazed, challenged, entertained and beyond pleasantly surprised.
I cannot express how great the album is. It gets better and better as it goes along. Musically, it is a terrific journey into FOJC's masterful composing, stellar singing, and intense lyrics that remain compelling even after repeated listening.
From "Hot Sahara" to "Ghosts of Paradise", and "Together in White Leather (Dolce Vita)", you'll need to educate yourself to the duo's compositional forms and conception, as they're so musically dense.
Rhythms and melodies combine to drive the listener to a euphoric state that reaches its natural conclusion on "Cherry Drops" and "Noirstar (Memories of His City)", before the electronics give way to the acoustic soundscapes of "Under The Milky Way (Live Acoustic)" and "Ghosts of Paradise (Acoustic Choirgang Mix)".
Nowadays, it is hard to find an album where you don't skip a track. This is one of those albums. I haven't been able to stop playing it since the first listening.  In addition to their own releases, Fans of Jimmy Century will collaborate with producer Chris Moon (best known for discovering Prince) on a special project in 2019. FOJC also produces a popular residency show at The Copa Room on the Las Vegas strip Southside called "Fatale Originale".
OFFICIAL LINKS: WEBSITE – FACEBOOK – YOUTUBE – INSTAGRAM – TWITTER – SONGWHIP
Please follow and like us: