Music has been a part of Dustin Steen's life ever since he was born. His parents were his first influence, and he remembers hearing the southern rock and country sounds from their band Buzzard Roost. Dustin quickly picked up playing the drums and singing by the age of seven. At the age of 12 he found himself singing in front of the congregation as his parents had switched from rock to gospel. Though the concept of God didn't makes sense to Dustin at the time as he continued into a life of sin, turning toward alcoholism and losing his job along the way. He somehow found employment on a shrimp boat, and it was during his time offshore that he found solace in the bible. This led to Dusty pursuing music ministry in his parent's church back home, and currently finds him working on his EP "Mixed Genre".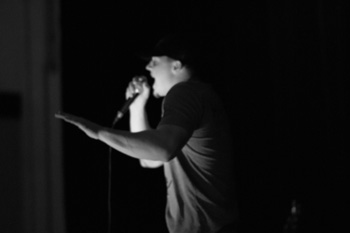 In the meantime he has released the single, "Baby Blues" which tackles the hard realities of family, marriage and children when you're too young an unprepared for such events. And what an astonishing piece of work it is.
Dustin Steen has a great resonating rock voice, which allows him to spread his wings and soar to every corner of the widest reaches of the capacious genre of classic rock. On this new track, acoustic guitars and percussion dominate the soundscape, and Dustin shows himself to be an unsung songwriting hero, able to spin a slow burning rock and roll classic.
"Baby Blues" is a song for the ages. With this definitive statement of ballad-writing skill and supremely classic rock vocals, Dustin delivers us a moving song that cements his reputation as a conscious, spiritual and deep-thinking artist. As the sun sets, light a candle and pour yourself a hot drink, and put this track through the stereo.
It will rightly carry you through into a higher truth of the most exquisite emotional and musical beauty. The production crew on "Baby Blues" deserves credit for crafting a sound that suits Dustin Steen's style, clearing out all the furniture and giving his voice an open room in which to spread out.
Even better is the actual meat of the track, which features fewer production tricks than most and some of Dustin's more confessional and revealing lyrics, while the imagery is brought to life by a refreshingly emotive performance.
This really should be the template for Sheen's solo career, and hopefully will be trending that way.  "Baby Blues" stakes its claim in the rich soils of acoustic music's middle ground, a place that values intimacy above innovation, and quiet truths above nonsensical screaming. And it's all the better for it!
OFFICIAL LINKS: WEBSITE – SOUNDCLOUD – FACEBOOK – INSTAGRAM
Please follow and like us: