Dan Tha Jeweler has a way with words. His insightful narratives pour out in a style approaching stream-of-consciousness were it not for the tight rhythmic structures, pithy rhymes and subtle instrumental arrangements. It's smooth, intelligent urban poetry with a powerful emotional clout.
He can cut like a knife, be quietly reflective or a poignantly exasperated soul, all of which can be found on his debut album "Blessed", released during July 29. Now Dan Tha Jeweler has dropped a brand new single entitled "Just Another Night".
Spoken-word in music can sometimes inspire a certain wariness in listeners. Too often it conjures up images of self-indulgent speakers expounding at great lengths on uninteresting themes. Dan Tha Jeweler on the other hand, deftly explores something crucial, but all too often lacking from modern music: An intriguing narrative well told.
His dulcet, percussive flow is as keenly observant as it is disarmingly introspective providing a powerful look at a strangely deviant relationship. He talks about situations that many can relate to but are rarely explored in such detail. Taking you on a journey with his words you can't help but play out imaginary scenes in your head, his lyrics conjure up such powerful images you feel like a movie's unfolding in front of you.
"Just Another Night" is probably most effective due to its luscious, but mellow backing track, which puts the focus squarely on Dan's impressively deep-throated lyrical style with little distraction.  It's hard to peg where this track sits stylistically in the context of modern music, but the staggered flow and unique delivery leaves Dan Tha Jeweler pretty much standing on his own in today's pop landscape.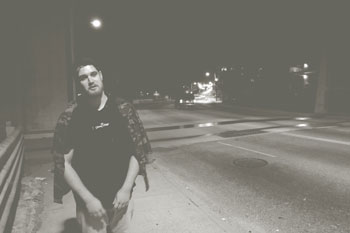 It's refreshing to hear a voice like Dan's filling this void of immediacy as there is honestly few like him around today. And that's part of what makes Dan so special.
It's certainly not up everyone's alley, but hopefully it will dispel the notion that spoken-word artists are merely a pack of pretentious hipsters who are unable to follow the rhythm of a beat. Dan Tha Jeweler proves that you can follow the rhythm of a beat without machine gun-styled deliveries and angst-driven flows.
And that maybe a conversational style, puts the listener more at ease and willing to perceive the intended messages.  "Just Another Night" sees Dan Tha Jeweler not only rapping and singing, but behind the production boards too – tasks that he has fulfilled to perfection.
FOLLOW:  WEBSITE – FACEBOOK – TWITTER – INSTAGRAM – SOUNDCLOUD
Please follow and like us: