CannabisBoy is an 18-year-old music and cannabis lover from Poland, who resides in Wisconsin USA. He has been doing music for almost a year for now, and smoking for the past three. CannabisBoy now brings us his single, "I Dont Fckin Care" produced by Anabolic Beatz. The young rapper is incredibly comfortable in his own skin. His single is exceedingly ambitious, meticulously thought-out and highly energetic. He showcases a true sparkle of potential in the relentlessly boring battle of authenticity in the rap world. He doesn't play that game.
CannabisBoy is acutely focused on creating a raw and thought-provoking track, littered with cutting lyrics and personal observations. "I Dont Fckin Care" is a ballsy track, and a lot different from his previous release, "Fly", which leaned more towards a melodic deliver. Here on the new single, CannabisBoy uses abrasive and aggressive tones to get his message across.
There is overwhelming improvement and an expansion of a more hardcore aesthetic on "I Dont Fckin Care", as CannabisBoy outdoes himself on this single. Lyrically, the young rapper has the skill to create a fully-fledged picture of the harsh realities his describing. The track seems like a sonic gallery of his angrier identity, as CannabisBoy sounds frenetic through the rattled aggression on the chorus.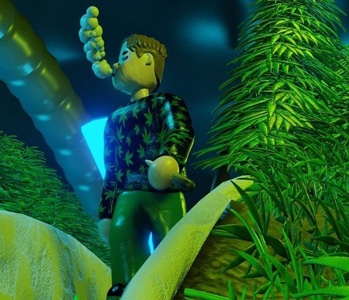 In the music world of CannabisBoy, the vast love of a hip-hop, the fondness for cannabis, and the realism of his existence all sit next to each other equally. Then there is his flow. He exhibits his phenomenal agility and skill to switch between his aggressive barks to a free flowing cadence over dark, cascading beat. He is also able to switch languages, which adds an extra flavor of intrigue to track.
As of right now, CannabisBoy is one of the bright young rap upstarts making his way into the rap circuit. For me, that is why "I Dont Fckin Care" is truly exiting to hear because it's a witness to a young force fully realizing his potential. This is real rap, raw and uncensored.
In all, this track is a crossbreed of the best parts of both the old-school hardcore rapping style and the new-school cinematic production. Ultimately, CannabisBoy brings forth a track that doesn't disappoint from any aspect, and will find fans from diverse rap stylings. CannabisBoy plays to his strengths on "I Dont Fckin Care", with a few additional ideas added in. All of which serves as a strong appetizer for any future releases from the Polish-born wordsmith.
In the current musical universe, a vast space for potential up and coming artists exist. Within this universe, CannabisBoy has the potential to carve out his own lane. He is able to churn out melodic, club-ready tunes, or combine real life grit with larger-than-life aggressiveness, as he does on "I Dont Fckin Care".  This track is a highly enjoyable listen that is yet another impressive showcase for CannabisBoy's exceptional mic skills and rare dynamism. It should be enough to solidify his case, as an up comer to watch.
Connect with CannabisBoy on INSTAGRAM: https://www.instagram.com/cannabjsboy
Please follow and like us: