Buck Dean & The Green Lips are Sunshine Coast, Australia born and bred local band. The band enjoys performing the rock driven classics of the 70's as well as their own unique guitar driven originals. They are quite new to the music scene, but this has not stopped them from developing a strong following with their vibrant live performances.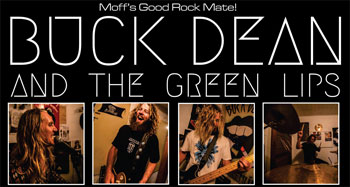 The main thing about this band is that they have passion. The vocalist screams, cries, seethes, and basically slops heart-on-the sleeve emotion all over the whole thing with either unbridled abandon, or the best damn artificial angst I've ever heard. The guitars churn, the lead solos bleed, the drums incite rage.
The lyrics are gut-wrenching; the concept is loud and beautiful on their EP "Bang Bang". Rarely does a modern record coax such strong feelings out of me.
On the title track, the musicians do a great job, the drums are crisp and perfectly timed, with some quite energetic and original fills, the guitar has a great tone, and the bass drives the song along relentlessly, while the vocals are nothing short of visceral poetry.
The mixing on this track and EP in general is professional grade, which is more than I can say for a lot of other new rock bands stepping up to the plate. The instruments work in harmony to produce a powerful unified sound as opposed to sounding like they're competing with each other, and never does one overtake the others to any unreasonable extent – truly a very well-produced record by Elliot Henrich.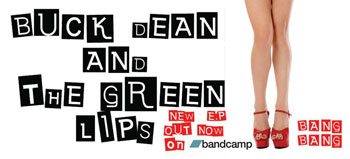 The sheer magnitude of their sound and the band's live performance flair is impressive, calling on influences that span the better parts of rock and the alternative music scene. On "Bang Bang", Buck Dean & The Green Lips draws you down into the sonic depths of their musical psyche.
No matter what your taste in music this track will open your eyes and give you that little jolt up your spine that comes when you find something truly special. Much of the band's music owes a nod to a variety of classic rock forms, but Buck Dean & The Green Lips choose to keep the rig rolling in a post-modern and forward direction. With the pedal full throttle down to the floor, they come out rocking, fully loaded and guns blazing – "Bang Bang"!
OFFICIAL LINKS: WEBSITE – SOUNDCLOUD – BANDCAMP – TWITTER – YOUTUBE
Please follow and like us: