German Music Producers Blaikz & Andrew Spencer has released their latest EDM single, "We Are Not Impossible" as well as the official video clip for the song. It comes across as a largely risk-less attempt to reach the widest audience possible while still maintaining some semblance of artistic integrity.
The track features the stylistically mature marriage between groove and melody that Blaikz & Andrew Spencer have obviously developed during their ongoing collaboration. Heavily driven by both superb instruments and uplifting lyrics, the song certainly does not come across as the attempts of a novice producer, of which the EDM genre is completely brimming with.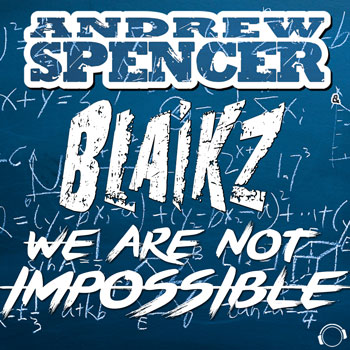 Most EDM/Pop crossover tracks now sound like they come off an assembly line. Sure Blaikz & Andrew Spencer stick to a similar formula of a driven straight beat and smooth silky female vocals that soar in the choruses, as it's one that works and they'd be really stupid not to use it.
Nonetheless, the track has a fresh feel and vibe that fits neatly into the packaging of pop music, and it will occur to you that you that you wouldn't be surprised to hear the track from the overhead speakers of a retail outlet just as much as on the dance floor of your local dance club.
This simply means that Blaikz & Andrew Spencer got the formula perfectly right for mainstream mass appeal. And whoever thinks that's a bad sign, has obviously never tried to make a living off music.
The lyrics on "We Are Not Impossible" slip off the tongue with hooky ease and the ability to get fans singing along half way through their first listen.  The singer wrings every drip of romantic angst going with the production ebbs and flows, as she captures every nuance to help her gorgeous highs soar even higher.
Record labels, radio stations and fans alike are insatiable for EDM music with a pop tinge and Blaikz & Andrew Spencer delivers a text book trendy song that will satisfy popular craving.
The result is a track that does everything you would expect it to really well, while adding a few surprises along the way. What you get with "We Are Not Impossible" is a track that sizzles out of the speakers and will command you to dance, sing and feel pretty awesome about life, and especially about being in love.
OFFICIAL LINKS: WEBSITE – MENTALMADNESS RECORDS
Please follow and like us: