BK the Cameroonian Rapper resident in Douala brings us his single 'Grand frère' (big brother). BK is everything you want in an indie artist. He is paving his own way and not looking back, taking inspiration from global hip-hop and rap flavors, and infuses it with his own unique style that he's been developing. The tone of his voice is rich and textured with a record-popping quality, and the beat he raps on has an atmospheric aura, with sparklingly warm keys and rumbling bass synths. He is both traditional and forward thinking, his music ripe with soul and generosity.
The production across the entirety of 'Grand frère' is exceptional, but BK always remains the music's central focus. He collaborates with the beat, bending his voice around notes with a conversational quality. There's a soulful hue to all of his bars. It's organic, resonantly deep and relatable in terms of tone. The subject matter and wordplay unfortunately remains out of my reach as I'm unable to understand French, which is the language BK raps in here.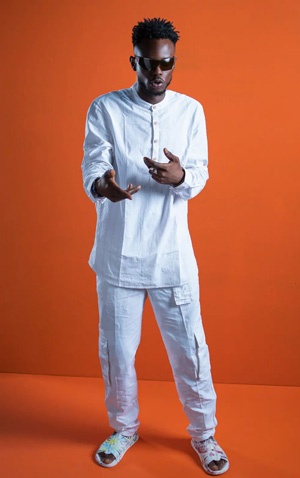 Even if the subject matter and wordplay does not apply to the English-speaking listener, they are still instantly captivated, by the passion spilling out from the roar of each word BK spits. The best moments of 'Grand frère' make many of his contemporaries feel subpar and irrelevant, and there are never times when BK's desired aesthetic distracts from the raw energy that makes his music so appealing in the first place.
'Grand frère' is near bulletproof with something for the rap purists, underground aficionados and casual listeners alike. Sure, if we could understand the language, the appreciation for BK's music would certainly increase tenfold, but in the meantime, we can hold onto the overall sound of the song, plus his smooth flow, and the deep ominous timbre of his voice, which rings loud and clear. Again, the selling point is clearly BK's flow and delivery.
Coming in at under three minutes, 'Grand frère' has no time for wasted bars, or any superficial sonics, and in fact, not a second of this track is wasted.  BK takes his music seriously. He is a polished emcee, coming together with a talented producer, and creating something special. From his voice to the way he rides the beat, you need to wake up to BK immediately, despite the language barrier.
'Grand frère', shows the Douala based rapper finding his foothold as an impressively matured emcee in the vast expanse of hip-hop's current global landscape. 'Grand frère' features an innovative beat laced with a tranquil keys produced by DijayCliff, and an infectious-yet-seemingly-effortless flow from BK. Due to the international release of 'Grand frère', BK opens himself up to a whole new world of listeners who may be able to find a personal connection with his music.
BK certainly sounds like he has something to prove. He's just getting started, and yet his raps come in stellar form, reminiscent of a seasoned vet. BK masterfully captivates through his ability to paint a picture with the tones of his voice, and once we can fully understand what he is saying, the listening experience will most definitely be elevated to another level.
OFFICIAL LINKS:
www.facebook.com/biiikeyyflow
www.instagram.com/biiikeyyflow
www.twitter.com/biiikeyyflow
www.tiktok.com/biiikeyyflow
Please follow and like us: