"People want a reason to hope. They are looking for a place in life that makes them feel safe," says Arthur Jae. "I feel I have so much I can share in the music I bring. It's how I give my heart". Arthur Jae is a dynamic gospel singer, songwriter and performer. A fresh winner of the MY MUSIC BLOCK TV AWARD, the artist is reaching out across the globe with his inspirational Gospel music through his brand new single, "In My Heart". Here he continues to be a compelling musical trailblazer in contemporary Gospel as both an artist, and a songwriter.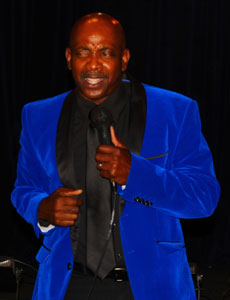 The strange thing about "In My Heart", is that it has a familiar sound, nut it stands out all on its own. Its Arthur Jae's testimony, and it's a great story to check out. Judging from a lyrical standpoint, the song is simple and easy to understand, as it primarily speaks of God's goodness and unchanging love being infused into the artist's essence.
"I'm so happy and I'm so free, since you put your love inside of me. In my heart, I've got the love of someone. In my heart, I've got the love of Jesus," sings Arthur Jae proudly.
Arthur Jae's approach to his music demonstrates how thin the stylistic line is between Gospel, Inspirational, and Contemporary Christian Music in the 21st Century. It incorporates an engaging beat, a smooth meditative rhythm, and uplifting vocals from Arthur Jae.
With a track this rich in true and sincere content, it becomes impossible to not be hooked to its concept. Coated in sweet melody, the song encourages the heart of the listener, stirring up faith and a deep sense of wonder for God.
Arthur Jae's soulful vigor and power praise propulsion will definitely appeal to a wide audience. It becomes clear throughout this single that the singer-songwriter sees God as the comforter, protector, provider and the One who elevates.
He brings this much across without ever becoming too preachy, but by simply bringing his own testimony to the table. He talks about how God's mercy, love and grace has taken him to a new level of happiness.
Of course none of this would be as convincing, if Arthur Jae's vocals weren't so appealing, rich and distinctive. His nuanced and textured vocals create a groove that truly sounds like it was blessed from above. I really urge anyone who hasn't listened to "In My Heart", to do so. Listen to it again, if you have done so before. I have listened to this track countless times and it's refreshing each time.
Arthur Jae is continually growing, learning and striving to live the call that has been placed on his life, a call that is leading him further down the path of grace. He understands the grace that is working within him and desires to share that with his audience on "In My Heart".
Arthur Jae's music is the epitome of everything that contemporary gospel music should be; inspiring, well written, beautifully arranged and sung, and based on the word of God.
OFFICIAL LINKS: INSTAGRAM – WEBSITE – SPOTIFY
Please follow and like us: