The persisting career of musician, singer, and songwriter Warren Bruce Cuccurullo, has reached incredible and indelible highs. He worked with the late, legendary Frank Zappa in the '70s, founded Missing Persons in the '80s, and became a long-term member of new wave legends Duran Duran in '86, notably contributing to the band's regained worldwide success on the 1993 chart-busting "Wedding Album". Not one to rest on his laurels, the talented Brooklyn born guitarist however, has always continued his solo and collaborative work, and has just unleashed his 12 track album "Missing Person".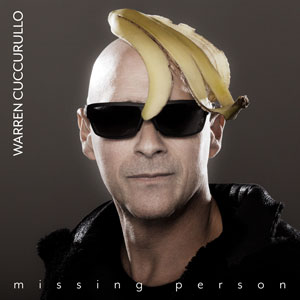 Described as "a deeply personal and conceptual record", the album features tracks dedicated to his friends, peers, and heroes, and pays homage to the likes of Prince, Gary Numan, Miles Davis and John Coltrane. On this recording, Warren Cuccurullo maintains his venerable songwriting slants by challenging the listener to be curious, skeptical and aware – to question everything – while holding onto their core values, as they wander through a landscape of information that always seems to have an ulterior motive, and the truth of anything becomes a casualty.
The driving crunch of scorching guitars, vibrant warbling synths, pummeling beats and soaring vocals wash all over "Missing Person", bringing both a feeling of nostalgia and a razor-sharp, cutting-edge modern-day production. The album fortifies Cuccurullo's savory guitar riffs with more lavish textures that go from organic to electronic, drawing upon instruments that never sound out of place. Warren Cuccurullo has included a diverse range of songs and music that all seem to work together perfectly and transition smoothly throughout the album.
The twelve tracks on "Missing Person" includes: Me I Disconnect From You, Back in 1981, Einstein, 4U, You Should Dance To This, Party Ultimate, Dear Listener, Me, Jug and Doe, The Backwards Alphabeat Exercise and Drum Solo, God's Creation, Invisible, Damned if You Do.
LISTEN HERE:
https://cmg.ffm.to/missingpersonwc
 
FOLLOW ON FACEBOOK:
https://www.facebook.com/warrencuccurulloofficial/
Please follow and like us: