A Music Industry Game Changer:
Connecting music creators with world-class musicians and opportunities, Tunedly is on a mission to revolutionize the music industry. The online music recording studio has already helped hundreds of songwriters bring their music to life by making it easy for them to collaborate with award-winning and trained session musicians, singers, and engineers. The roster includes professionals who have won Grammy and other music awards, and some have worked on chart-topping projects with the likes of Pharrell Williams, Beyonce, Kelsea Ballerini, and Barry Manilow (to name a few).
A Full-service Music Production Platform:
Tunedly was started by Chris Erhardt and Mylene Besancon. They first launched the pilot in 2015 to test the market after realizing that there were musicians around the world who were finding it difficult to connect with reputable musicians and studios to make good quality music at costs that weren't prohibitive. The success of that project resulted in the roll out of the platform as a full-service, online music production source.
Users are able to have their songs or compositions professionally-produced from scratch or have their already-recorded work improved upon by adding tracks and/or being mixed/mastered. The company sets itself apart from other online recording studios by allowing real-time collaboration with musical talents via a messaging board, as well as having projects produced using live instruments.
In addition, Tunedly also offers its premium members a range of services to help bring about needed exposure for their music. These support services include professional song plugging (with guaranteed song placement) and access to music distribution sites, such as Spotify, Apple Music, and Tidal. Members are also able to set up a professional EPK, absolutely free, which makes it easy to share their music with anyone who might be interested, including industry professionals and friends.
The Future of Music Production:
Since launch, Tunedly has helped bring to life over 2,000 projects. Although it's early days, the company is making a strong case for being the future of music production. It does this by making it possible for more music creators with limited access to high-quality music production to link up with some of the world's best from the comfort of their homes, while discovering opportunities to gain exposure. Some Tunedly clients have recorded chart-topping singles, placed songs with music publishing companies, and even won songwriting competitions by virtue of using the online recording studio's services.
Looking to the future, Tunedly seems to forge connections with other important players in the music industry, including Music Connection, as it looks to reach even more people who desire its services. All songwriters and creators, whether amateur or professional, will be able to benefit from Tunedly's raft of professional services.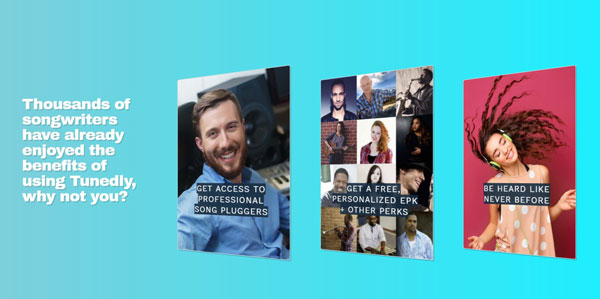 Please follow and like us: