"Televibes" by Rohan is an instrumental ambient, almost post-rock track. This University of Richmond student, from Mumbai, India, has the capacity to make truly emotionally stirring instrumentals, and he can move you with a guitar riff the way few can with lyrics. This release, from the 22-year-old guitarist and producer is simply the first step in the maturation of the relatively unique sound of this artist.
Rohan, who claims that he does not want to confine himself to any one genre, and is continually trying to diversify his music, explains how he obtained the sounds and timbres found on "Televibes": "I created the track using a Fender Telecaster running through Ableton live. Instead of using standard amp settings for a six string, I used Bass. I also used a cabinet with 4×10 Bass to emphasize the mellow tone of low-end frequencies. However, even though I was focusing on bass, I played chords in D that are not traditionally played, and I did not use the E string either. I used sub bass to emphasize progressions."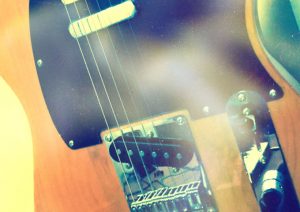 The guitar remains the protagonist, throughout this track. The melody is simply held and never, reaches into the territory of a solo. The distinct parts, with varied soft rhythms, that somehow manage to coalesce into a cohesive whole, bend and collapse into themselves, serving as a propellant into a reflective, sparse arrangement that aches with subdued energy, reaching the plateau of your subconscious. Much of the mellow electricity found in the music can be attributed to the simple but phenomenal work of Rohan. He seems to have an innate gift for knowing how to fill his work with a sense of longing, and yet having.
The lo-fi production is sparse, yet highly adequate. The sound is simple, almost unadulterated save for the reverb effect, with no apparent studio sheen. Rohan does exactly what I would hope an artist producing ambient, chill or post-rock would do, and that is get out of the way and let the music speak for itself. In that, Rohan's work in this recording is a complete success.
This is a track filled with hope, longing and beauty. True, it may sound like its born out of melancholy, but that only serves as the foundation for a tower of hope. Even the track title assumes that there is an event, an instant that transports the mind, and makes one long for things familiar. At its best moments, this music has the capability to do exactly that.
OFFICIAL LINKS: SOUNDCLOUD – CONTACT: rohansounds@gmail.com
Please follow and like us: