Every once in a while you find yourself hell-bent on getting your own way – no return – run your head through the wall. This is the main topic of the new Single Hit The Wall of the Austrian heavy metal crusaders Speed Limit – the first appetizer of the new album Cut A Long Story Short. The now released EP Hit The Wall offers beneath the videoclip two live clips of Retired Hero and Sweet Morphine recorded 2021 live at Seeham/Austria. Hit The Wall will be released digitally on May 26th, 2023 on all common streaming- and download portals by NRT-Records.
This first released track from Speed Limit´s upcoming 6th album Cut A Long Story Short presents the melodic metal guarantors Hannes Vordermayer (lead vocals & drums), Chris Angerer (guitar), Joe Eder (guitar) and Chris Pawlak (bass) in well established strength and delivers a fine mix of melodic- and heavy metal with a driving breeze of the so-called New Wave of British Heavy Metal.
Songlist and audiotrailer for Cut A Long Story Short:
For live-gig-junkies both of the live clips and audios showcase the pure energy of Speed Limit´s live performance and there is a chance of catching them live at the following occasions:
June 17th, 2023 – Rockhouse Salzburg – Album release-bash with Badhoven
September 16th, 2023 – Live In Graz (TBA with Circle Creek and Badhofen)
October, 29th, 2023 – Wildstyle & Tattoo Messe Salzburg – with U.D.O.
A festival slot at INNRock Reloaded Festival has been cancelled. More dates to follow.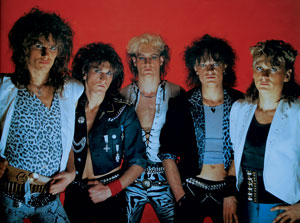 This year Speed Limit overlook nearly 40 years of band history. It all started in 1984 when the bands Ampere and Speed Limit allied their forces to fire the starting pistol for this new band, choosing the name Speed Limit for it´s better sound.
Releasing the album Unchained in 1986 the band could attract larger attention and with the 1988 album Prophecy they managed a cross country breakthrough. The lineup in those days consists of bavarian singer Steven Hogger, bassist Chris Pawlak, guitarists Chris Angerer and Hel Lennart as well as drummer Andy Rethmeier.
Austrian music magazine Rennbahn Express voted Speed Limit best national metal act (Jury: Gene Simmons from Kiss and Bruce Dickinson from Iron Maiden). By that time the ex Torso-guitarist Joe Eder replaced Hel Lennart and you could find Speed Limit touring with U.D.O., Chroming Rose and Maniac amongst others.
In 1990 Speed Limit had finished recording a new album but the date of release had been delayed several times and was finally canceled by the record company. In this unsatisfying situation singer Steven Hogger quit the band and was soon replaced by Chris T. Ebert.
With the new singer the album Perfect Inspiration had been recorded and was released in 1992 also promoted by a highly successful "unplugged"-tour. Unfortunately the new album was failing sales expectations and due to a common disinterest in hard rock and heavy metal in those days Speed Limit disbanded in 1994 after a last concert in a then new Rockhouse Salzburg.
In 2008 Speed Limit surprisingly reunited in the successful line-up of 1989 (except Drummer Andy Rethmeier) with singer Steven Hogger, bassist Chris Pawlak, the guitarists Chris Angerer and Joe Eder and neo-drummer Wolf Krug. "This is no comeback – this is a new beginning!" the five metal-crusaders agreed.
Shortly after the first rehearsals Speed Limit had been invited to open for Nazareth in Austria. The first live appearance after nearly 14 years took place on April 12th, 2008 at Gusswerk/Salzburg. The overwhelming reaction of some 1300 rock fans washed away the last doubts of this reunion.
Apart from the official reunion party at the Rockhouse Salzburg in 2008 Speed Limit embarked on a brief tour with Uriah Heep and also co-headlined the Austrian Rockfestival in Klagenfurt together with bands like No Bros and Blind Petition. In 2009 the reunion tour continued headlining the Celtic-Metal-Festival/Hallein bevor playing some highly rewarding shows with Manfred Mann´s Earthband in Germany.
The album Moneyshot released in 2010 by Pure Steel Records entered the Top 30 of the German Rock and Metal Charts. Subsequently Pure Steel Records' sublabel Karthago Records re-released the legendary Unchained and Prophecy records in a CD-bundle.
After several lineup-changes and live-touring Central Europe Speed Limit released their 5th album Anywhere We Dare in 2017 with Manuel Brettl (lead vocals) and Hannes Vordermayer (drums) joined by the usual suspects Chris Pawlak (bass) and Joe Eder & Chris Angerer (guitars). Again press and fans where highly excited by the new album.
Manuel Brettl left the band shortly after the release of Anywhere We Dare for personal reasons. After an inefficient search for a suitable lead singer drummer Hannes Vordermayer – a talented and experienced singer in previous bands – took over the lead vocals.
2019 saw a successful 35 years anniversary tour stopping in Graz, Innsbruck, Vienna and Salzburg before Speed Limit started pre-production of what was to become the follow up to Anywhere We Dare.
In December 2022 Speed Limit signed a long-term record deal with German independent label NRT Records resulting not only in the release of the new album Cut A Long Story Short but also the full back-catalogue digitally. For the first time the 1992 album Perfect Inspiration is now available again.
Tobias Schönbeck from HOEVER Film remastered Speed Limit´s Video Clips re-released by NRT Records.  With the new single including videoclip Hit The Wall to be released on May 26th, 2023 as a 3-track EP backed by 2 exciting live tracks/videos Speed Limit will run this new chapter of their story by storm.
There will be a live presentation/release party of the new opus Cut A Long Story Short on June 17th, 2023 at Rockhouse Salzburg. Aside from this special event, Speed Limit will start touring in summer/autumn 2023 stopping by at Wildstyle Tattoo Messe/Salzburg supporting Accept legend U.D.O.
Find out More about Speed Limit here:
Speed Limit – the official website:
Speed Limit at Facebook:
https://www.facebook.com/profile.php?id=100063596767127
Listen to Speed Limit at Spotify:
https://open.spotify.com/artist/5XUra2fEohvIle8Gp5VAtN
Please follow and like us: