More than ever, hip hop has become a cliqued-up world in which the circles you travel in often matter far more than what you bring to the table. It's a hustle all too easy to keep afloat in the social media era, with streaming playlists and positions all but deciding who listeners hear. Is the artist any good? So long as the music sounds decent enough in the background, it doesn't really matter. Enter Scoobie with his 'Longoverdue' album. The rapper is building a reputation through slick flows and creating an unmatched vibe with his music. The energy and swagger that comes along with this bleeds into almost every one of his tracks.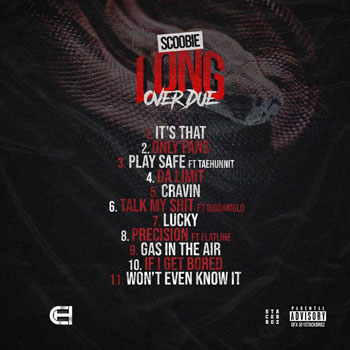 'Longoverdue' contains 11 tracks. Through it all Scoobie delivers music that exudes his unmatched confidence. Along with this, he has this ability to surf over beats at any pace, never seeming rushed. While he is spitting, we are in his world. Right from the first track, it feels like Scoobie is able to be so comfortable on this project, because he really found the sounds that work for him.
The entire album is filled with beats that almost allow Scoobie's voice to become a part of the production. Rather than going on top of one another they work hand in hand. The drums are hard enough on every song to still give 'Longoverdue' that traditional rap feel, while the rest of the instrumentation on this project is what makes it different from the traditional rap album. The bass is booming with gritty earthiness, while the keys and guitars give it a glittery feel.
Those who are not yet fans of the Washington D.C. rapper should give this album a listen. Scoobie has studied the game to a tee, and you can see the work he has put in to get to this point. The lyrical content Scoobie brings to the table is also equally as wholesome as the production.
Moreover, his tell-all narrative ability while rapping about his experiences and thoughts, doesn't fail to impress. On 'Longoverdue', Scoobie displays the hunger and drive of a new artist, with the charisma and comfortability of a hip-hop veteran.
OFFICIAL LINKS: FACEBOOK – APPLE MUSIC – YOUTUBE
Please follow and like us: