Rob Stroud: Gothic drummer, synthsmith and now soundscape artist. A true original who started his musical journey with Gothic legends Sex Gang Children and created a world of dark Musique concrète with his own band Devoid. Rob now returns with a solo album that really challenges your preconceptions of soundscape art.
​Locked features 12 remarkable tracks that defy convention, a risky thing to do in a world of homogenized pop and rock, where narrow formulaic song construction rules the air waves. All too often, music that challenges the 'norm', is dismissed as too radical for popular approval.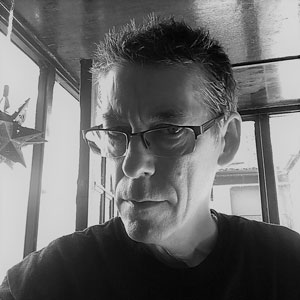 is a true original and that's why true blockhouse signed him up as soon as he became free from other commitments.
Rob's musical career is centered around synthesis and post punk electronica:
Rob Stroud: "Starting out with a Korg Monophonic MS-10 synthesizer at the age of 15 I experimented with recording and overdubbing on a Reel to Reel tape recorder along with an old borrowed acoustic guitars, mainly slowing things down using the tape speed option. Experimentation was the main goal. After 5 years of drumming in bands I moved into synth pop. With the band Pink and Black I recorded a minimal dance 12" for Illuminated records in 1984 called 'Sometimes I Wish' which was re-released via Emotional Rescue Records on 12″ in 2014.
​My next synth project was Cosmic 666 (1986 – 88) heavily influenced by Swiss electronic wizards Yello and the emerging heavier style of Depeche Mode.
​Cosmic 666 turned into Technoquake releasing two records with more an edgier sound: You Say I Said on 7" & Crack Baby on 12" in '89 & '91
Devoid was next – Samplers had arrived and it was time to make as much noise as possible – but with no keyboards.  The influential album Songs of Mass Destruction (1993) (Energy Rekords) cemented this new non-conventional approach to music production"
The internet changed the landscape of music distribution and Rob successfully released and distributed a number of albums himself: The 'Themes' series 3 were just mainly spontaneous recordings with little to no overdubs plus old recordings rescued from tape. No PC's or software allowed.
And so it was with Rob's new compilation album Locked: no Logic Pro, no computers
Rob has signed to trueblockhouse.com with his stunning first compilation album, LOCKED, featuring film soundtracks and new recordings which have been carefully curated to flow as a cohesive body of work that takes you on a chilled journey to the darker side of synthwave. Locked also feature two remixes by us here at true blockhouse and by Cellarhouse
From the haunting Who Disturbed by Tomb to the disturbing Radiation 1 we think you'll probably have to listen to this album several times in a darkened room to really understand this highly creative and original aural journey
Rob Stroud's album is out everywhere from 10th May 2021
Links:
Website: www.trueblockhouse.com
Twitter: @trueblockhouse
Widget link: https://open.spotify.com/album/01EyuqmpEKZeFpxSGh2jW7
Please follow and like us: