WASHINGTON, D.C.:  On the foothills of releasing her award-winning single WHAT HAPPENED and seven years, to the day, after debuting her EP BETWEEN THE BINARY, musical scientist MELANIE EDWARDS releases her 10th album BETWEEN THE BINARY (COLLECTOR'S EDITION); a remastered version of her initial record with unreleased, never-before-heard demos, B-sides, live recordings and studio instrumentals.  Channeling the shadow side, Edwards commands the attention of her listeners, captivating them with her haunting vocals, intricate compositions and songbird melodies. In person, spectators are glued to Edwards's intriguing hands as they dance down the ivory keys. Edwards's comedic interludes make every performance a theatrical experience for her audiences and not just another songstress playing the piano.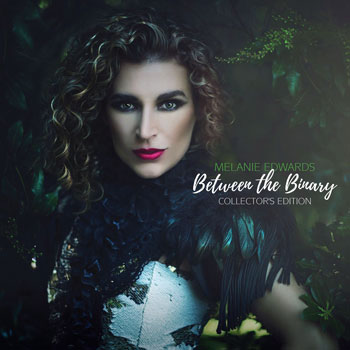 Classically trained in piano, violin and voice since the early age of nine, Edwards's collection of songs showcases an authentic, dynamic musical concoction that reminds listeners what real talent sounds like.  Edwards's BETWEEN THE BINARY (COLLECTOR'S EDITION) is void of over-produced, "microwaved" compilations delivering a buzz-worthy revisit.
BETWEEN THE BINARY (COLLECTOR'S EDITION) was recorded at Melanie Edwards Laboratories in New York City as well as Atlantic Sound Studio in Brooklyn, New York and GodelString Studios, also in Brooklyn, New York.  Sound engineer and audio mixer Tom Pastro, of Atlantic Sound Studio, co-produced Between the Binary in 2010 and Dan Rosato, of GodelString, was the audio engineer for Who's Gonna Color in the Middle in 2011.
A plethora of musicians from New York City's indie scene contributed to the record and are listed in the album notes.  Award-winning photographer, Kelly Schneider, of Captured Journeys Photography, shot the album cover, making this his second collaboration with Edwards after WHAT HAPPENED.  Graphic artist, Jenna Bailey, of Artifacturing, designed the cover title, with fashion guru, Iryna Mologoko of MILA Fashion creating the gown and Clarelys Aguilera acting as makeup artist.
You can purchase BETWEEN THE BINARY (COLLECTOR'S EDITION) on iTunes, Google Play, Amazon, Spotify, Pandora and TIDAL.  This double record with 30 songs features a remastered version of the original record with unreleased, never-before-heard demos, B-sides, live recordings and studio instrumentals that give listeners an intimate and rare look into the heart and soul of piano genius Melanie Edwards Laboratories.
ABOUT THE MUSIC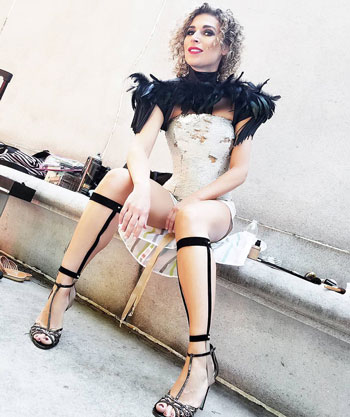 Melanie Edwards is an award-winning singer, songwriter, pianist, violinist and essayist. She is best known for her hit single "Daniel's Lane," winner of several accolades including Ourstage's "New Music Revolution Achievement Award," thrice, and "Best Single" in her genre by "Mashable," which catapulted her into The Deli's "Top 100 Best Songwriters of NYC." Melanie's popular single "Who's Gonna Color in the Middle?" received "Best of World Music" three consecutive months. Her single "Sugar" won "Top Achievement Award in Best Singer-Songwriter," and she was awarded "Best in Jazz" for her ballad "No More Drinking."
Melanie ranked "Top 100 Best of Pop" on Ourstage in 2015, as well as "Best Singer Songwriter" for her single "The Circle" in the Online Music Awards.  Likewise, she won the Damien Rice Lyric Contest for her rendition of Rice's "9 Crimes" (her version "9 Crimes Response") as "Best Cover" for Artists Den. Melanie has also been nominated as "Best Singer/Songwriter + Best Original Songwriting" for The Independent Artist Network for the Music Arts. Melanie was awarded a full stipend research grant for songwriting at Can Serrat International Artist Residency in Barcelona, received grants for music and songwriting at Odysseys Artist Residency in Costa Rica, and enjoyed a two month scholarship for music at Arteles Creative Residency Program in Hameenkyro, Finland.
To learn more about Melanie Edwards, visit melanieedwardslabs.com.
Please follow and like us: