The Right Wingers certainly bought into the concept of Love, but remained masked to fulfill the mission. They firmly believed that their combined talents were enough to make this project successful one way or the other, with or without Leftee. Once the Right Wingers sampled some of the Flint Fire Water they could now feel the light. Leftee off in a trance channeling the spirit, didn't have time to worry what the Right Wingers were thinking. Only to bring the songs of Love and see if that spark and spirit could actually bond and unite this group.
After all it did contain all the elements of the American way, so in theory it stood a good chance of connecting with everyone, as all were included, not excluded. That was the message of the spirit. When Leftee brought out the song "Hockeymom", Leftee and the Right Wingers found something they certainly could agree on.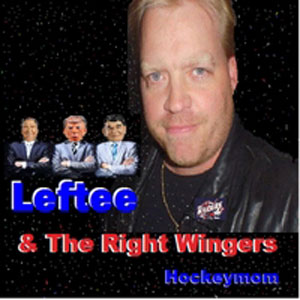 With one of the band members from Canada, and a big fan of Hockey Night in Canada, Leftee had broken the ice and the mission could progress on its directive. The band toiled for six days, on the seventh day they rested.
On January 1st, 2017 the conduit closed in the wormhole, all the Love that was captured lies within. Love heals all and can bring the Left and the Right together! The proof lies in the journey of Love and Life. However, let us not forget this album is dedicated to "Hockeymom" for all she does!
Leftee and Right Wingers are fully aware that this larger mission becomes most easy to share if fly's on the wings of Hockeymom, with all her Tweets, Instagram and Facebook posts. This album will be carried, shared and pirated many times, by many different Hockeymoms, until the message of love filters down to hockey rinks all over the United States and Canada of course.
Where the music of Leftee and The Right Wingers will start a grass roots movement blending the Left and Right together through Love and not politics! The Right Wingers claim they are in complete control in this band. Leftee retorted quoting Tom Petty, "Everyone knows Music is all about the songs!"
Time will tell if Leftee and The Right Wingers ever play again? Hockeymom will eventually get the credit for completing the mission! Leftee and the band are perfectly fine with that! The final track ended at 3:33 length pointing to the great unity "One Step Down The Line"! Enjoy!
LINKS:
CDBaby.Com (Listen Free – https://www.cdbaby.com/cd/lefteetherightwingers)
ThreePeace Website Leftee Page – ​http://threepeace.org/leftee.htm​
​ITunes – https://itunes.apple.com/us/artist/leftee/id494978423​
Facebook – www.facebook.com/lefteemusic
​MTV – http://www.mtv.com/artists/leftee/​
​Spotify – https://open.spotify.com/artist/6YOuxprGyLbsRj7NandsGS​
​Leftee Solo Spotify – https://open.spotify.com/artist/4ASvh0R5bUzzeWNgHW3NHx​
​ThreePeace Spotify Link – https://open.spotify.com/artist/0zje0iQ1fZ9CIEgIWV7CNF​
Please follow and like us: