Success is a distant dream for many, waiting for their chance to shine like a star. Several talented artists seek an opportunity to show what they can do. It is not true that everyone looks for the spotlight, and the same goes for Calvin Lewis, famous for his stage name Kiwiuh. He is a dancer who shakes the floor with his thrilling moves. Kiwiuh belongs to the Bay Area, and he has been a part of numerous live show performances and music videos. Apart from that, he has been working for some known artists, including Priceless Da Roc, Nef the Pharaoh, DMAC and Heaven Marina, during his 2 years dancing career. Being a part of various activities through his talent, Kiwiuh lured the famous music directors to offer him a role in numerous videos.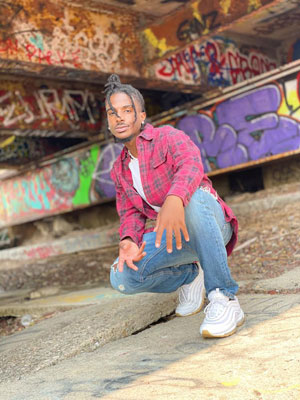 He is not a widely known dancer, but you can watch him dancing in the "Welcome To the Left Coast" video by Priceless Da Roc, where he was wearing a black hoodie while performing. He has earned quite a name within a short time and performed for Mayles Parrish, a globally renowned artist. Being a part of a duo with "Kalian N Mayles," a famous singing group, Kiwiuh lent his talent in music videos like "Go" and "White Tee" and performed in "Happy Holidays," the biggest crowd of his life in 2018.
His two videos went viral on social media and got him almost 11 million impressions in under two weeks. He also appeared in Yahoo news following that video. Kiwiuh is an active social media user and often found posting funny and relatable posts. While building a profile as a dancer, he has started a clothing brand called "Kiviscove" to provide silk-lined hoodies. When he has spare time, Kiwiuh generates promotion videos to take his clothing line to new heights. He has been attracting more fans on TikTok, and over 6million people watched his viral video.
Apart from his clothing brand and dancing skills, Kiwiuh likes Hip hop music, and he has entered into the world of producing with his debut release called Kiviscove Vol 1. Kiwiuh likes BMW i8 among cars and his favorite place in Stockholm for traveling. He dreams of living an accomplished life in LA with people he cares for in this world. Confident of touching the sky one day, Kiwiuh is optimistic about taking his platform to the new heights of fame and glory. He is confident of becoming an inspiration for his followers.
OFFICIAL LINKS:
http://www.instagram.com/kiwiuh
http://www.twitter.com/kiwiuh
https://www.tiktok.com/@kiwiuh
Please follow and like us: