Juliett Novak is a singer-songwriter and pianist, who currently divides her time between the US and Belgium. She is focused and determined with a strong will to succeed at her craft. Classically trained in piano and opera singing, she was introduced to Jazz, and has now directed her professional attention towards pop. She writes all her own music and lyrics, as well as produces her own songs, and directs her own videos.
How did you begin with music?
Juliett Novak: I began as a child. I studied classical music for about 18 years. Then I was working as a music teacher. It was only about 7 years ago that I moved to the United States and completely transitioned to pop music.
How did that happen?  Did you attend some pop concerts in the US that inspired you?
Juliett Novak: Yes (Rihanna, The Weeknd, Andra Day…) and many others, but it wasn't just that. You know…I was surrounded by great music all the time – on the radio, on TV, in churches, and even on the street. I was also a member of the Harvard Gospel Choir "Kuumba Singers". This all influenced me a lot and inspired me to start composing my original songs.
And where have you lived exactly?
Juliett Novak: First in Boston, then in Washington DC. But I spent a lot of time in New York working on my music projects.
What brought you to Boston?
Juliett Novak: It just so happened that my husband was accepted to Harvard law school, so he went there and after 4 months I left Slovakia to join him. I have been living abroad for the past 7 years.
And what were you doing in Boston?
Juliett Novak: I couldn't work there at that time, so my husband arranged for me to practice piano and singing at the Harvard music department. They gave me my own music room with a grand piano.
So was that where you created your first songs?
Juliett Novak: Yes, exactly! And right after I finished my 5th song, I found a producer who helped me with my first EP. I dedicated it to my family and friends.
That's very sweet that your first songs were dedicated to your closest people. When did you start performing your original songs in public?
Juliett Novak: In Boston, I attended a stage performance workshop at Berklee and got to present all my original songs in a series of concerts.
So after recording your EP and having your first concerts at Berklee, what happened next?
Juliett Novak: Then my husband got a job offer in Brussels, Belgium. So we moved there. I kept working on new songs and had several concerts. Then we moved back to the US again. This time to Washington DC.
How did you like it there?
Juliett Novak: Oh that was the best time of my life! I got a working visa, so I was able to work as a vocal and piano coach. I got so many awesome students who were working on their own music careers as well. In the meantime, I put a band together. We played some cool gigs, and my band also contributed to my new recordings. So I had a lot going on: I was working on my new projects, creating new songs, practicing with my band, recording, playing gigs, teaching, and singing in a local gospel choir.
Oh that's a lot. How did you manage to find time for all that?
Juliett Novak: I just needed to learn planning and time management because I also had a project in New York. I'd often travel there to shoot music videos and record songs with Grammy-nominated producer Arty Skye.
So you really experienced a lot in the US.
Juliett Novak: Yes, I think it forced me to become a different person, much stronger.
What happened with your new projects?
Juliett Novak: I released my first song Work It Out- in two versions (Version 1 produced by Arty Skye and Version 2 produced by myself…and one more song called No Regrets) I got a lot of positive feedback for all of them, especially for Work It Out – Version 2.
Was this the first time you wrote and produced a song?
Juliett Novak: Yes, but I still needed a sound engineer to help me program everything into music software. However, all the music ideas and production choices were my own.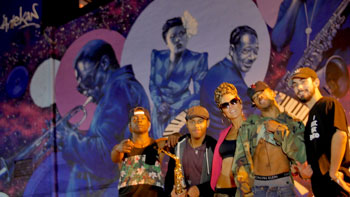 I know that in the meantime you moved to Europe again, right?
Juliett Novak: Yes, back to Brussels again. I really like it there too. They've given me many opportunities to get my music out there and shown me a lot of respect as an artist. For example, right after I released Work It Out, they invited me to play it live on Belgium Radio FM. In Brussels, I have a nice community of musicians who I consider family.
That is really nice. And now you are bringing us a new song Pap pa-rap. Tell us about this one.
Juliett Novak: It's a super positive song full of energy. My vision was to inspire people like I did with the previous one…but in a funnier way. I wanted people to dance, laugh, have fun and feel pumped up. The song is about strength and finding the power inside of us that can help us achieve true happiness and meaning in our lives.
And why do you have 2 Versions again?
Juliett Novak: Just like with Work It Out, the first version is older and was produced by Arty Skye in New York. Later I added a few things like saxophone parts, piano parts, and the scratches. I even changed the tempo. Then, finally, I just decided to reproduce the whole song again in Belgium. So Version 2 was produced by myself, and the backing vocalists and the bass player are the musicians from my band in Brussels.
And how about the music video?
Juliett Novak: The video was all done by me. I directed it, cut it, and edited it. All I needed was a cameraman.
So you choose the theme of the video, the people in it, the locations, the outfits, make-up, hair, everything?
Juliett Novak: Yes, it was a lot of work, but I took full responsibility. This is how I learn new things every day.
Is there anything else you'd like to say? I just want to tell everyone believe in yourself and follow your dreams.
Juliett Novak: We are stronger than we think!
Thank you so much for being with us.
Juliett Novak: Thanks for having me.
OFFICIAL LINKS: WEBSITE – FACEBOOK – INSTAGRAM – TWITTER
Pap Pa-rap /Street Party/
Pap Pa-rap /THE STRENGTH/
Please follow and like us: