Aryan J. King is a singer, songwriter, music producer and a professional guitarist with an exquisite taste for hard rock and blues. Having performed in his first concert at the age of just seven, unleashed an overwhelming passion for music. The aesthetic thirst for a proficient essence of music pushed him thrice into Berklee College of Music to study Songwriting, Music Production and Music Business. Later, Audio & Music Engineering became an addition to his credentials on his study venture to University of Rochester. Born in Madrid to a loving family embraced with a musical background – his dad started teaching Aryan the guitar at 3 years old, while his mother owned a guitar store. Aryan J. King is preparing to release his album between November-December 2020.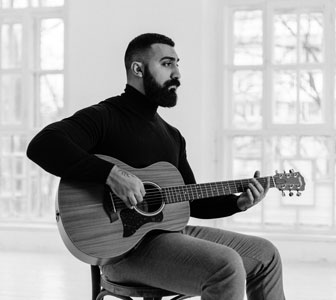 Can you tell us a bit about where you come from and how you got started? 
Aryan King: I was born in a loving family with Spanish, Armenian, and Persian roots. Embraced with a musical background. My father started teaching me music at the age of 3 and my mother owned her own guitar store. And that's how it all got started.
Have you had any formal training or are you self-taught?
Aryan King: Well, My father started teaching me flamenco guitar when I was 3 years old. And I had my first concert at the age of 7. But later on after I quit playing guitar I got back to pick up an electronic guitar in my teen years. And that's when I locked myself in my room and started practicing electric guitar by ear, books, listening to favorite albums, online books, and etc. So preferred to be self-taught.
Who were your first and strongest musical influences that you can remember? 
Aryan King: My father, Gary Moore and Slash. I remember when my father was taking me to school one day, and in his car he put on Gary Moore's Parisienne Walkways. When that long lasting note hit, I was sure I wanted to be the world's best guitarist. And that's when the purpose of my life had been shaped. On the other hand I've been forced to play and I had no intention to continue with it. In my mother's guitar store there was a big poster of Slash holding a Tobacco burst Gibson Les Paul and I always wanted that guitar which was sitting in our guitar store's show case. I got rid of my flamenco guitar on a trip to Turkey on purpose and hid it somewhere in the airport. So I wouldn't be carrying it back home and maybe my parents would gift me that tobacco burst. They did gift me the tobacco burst. But it was a flamenco tobacco burst guitar. So to cut a long story short, Parisienne walkway & November Rain were my main influences in picking up the electric guitar.
What do you feel are the key elements in your music that should resonate with listeners? 
Aryan King: In my music I use only live instruments, on a live recording, narrating a true story of what happened in my life. My music is nothing except a real crystal clear emotion that is written and composed to connect my inner world to everyone around.
For most artists, originality is first preceded by a phase of learning and, often, emulating others. What was this like for you? How would you describe your own development as an artist and music maker, and the transition towards your own style?
Aryan King: In my teen years, I looked 1 to 1 like Slash, if it says anything to you, After that I understood that I was going from slow Hard Rock, to blues and releasing my real emotions. Moving from my brain's imagination to my fingers on the guitar strings, and then moving to the amplifier's valves and to listener's ears. Music has been in my blood because I was born in a family with musical background. But I moved from Flamenco to Hiphop to Rap to hard rock, to metal, back to hard rock and then to Blues/Jazz. After that I understood that the guitar wasn't enough and I signed up for Berklee Songwriting and production courses. Today my music is influenced by: Gary Moore, John Mayer, Joe Bonamasa, Ray Lamontagne, Ray Charles.
What's your view on the role and function of music as political, cultural, spiritual, and/or social vehicles – and do you try and affront any of these themes in your work, or are you purely interested in music as an expression of technical artistry, personal narrative and entertainment?
Aryan King: Well, Music and rhythm find their way into the secret places of the soul. It's a strong unity and what brings people together. So using it as political, cultural, spiritual or social vehicles is a very right move. But unfortunately organizations and politics often use music as a weapon instead of a white flag. Yes, Recently I wrote, produced, arranged and composed a song for the United Nations and UNHCR organization for world's refugee day which will be released June 19 2020.
Do you ever write a song with current musical trends, formulas or listener satisfaction in mind, or do you simply focus on your own personal vision and hope it catches on with the crowds?
Aryan King: Best question ever asked! I'm very strict about staying focused on my vision and target my own audience instead of rolling to trends and formulas. I believe the real music comes from soul. With a message to deliver. I prefer to play real instruments, live recording, and even writing my lyrics on a typewriter instead of a computer. I can say I am 100% against trends. I love and listen to dozens of new artists with new genres of music. As long as there's real heart, love and soul buried in every song.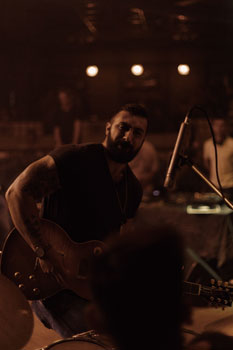 Could you describe your creative processes? How do start, and go about shaping ideas into a completed song? Do you usually start with the music, or a story-line in your head?
Aryan King: I usually start with the real life story, writing it down as a short story on my typewriter. Then build 3 boxes to fit the song into. Like beginning, middle and ending. Use all of my tools and take time to make it the best possible way. As one of my songs which has the shortest lyrics by line count. It took me 3 years to finish. Then remembering the atmosphere, storytelling if it was winter, or rainy autumn weather, and start getting chords together, focusing on staying on the same feeling as I had back then. After that I build the melody, solo, and move on to finish it.
What has been the most difficult thing you've had to endure in your career or life so far, and how did you overcome the event?
Aryan King:  The most difficult time was when I got stabbed by a knife into my main vein and artery. I was told that I had a 99% chance of dying, and if I stayed alive I would be disabled to walk or move forever. I survived Coma after a couple of months. But 50% blood loss, 8 clinical deaths has disabled my left hand, my left leg and destroyed my vision. Recovery didn't help as all nerves had been ripped off on my left hand and my hand was swollen. If I moved it, it would hurt to death and shake like hell. But I suffered, cried, tried over and over again and barely recovered. Nothing is worse than telling a musician you won't be able to ever play again, or wake up anymore if music is the main purpose of your life.
What would you consider a successful, proud or significant point in your career so far? 
Aryan King: I've done dozens of ghost-writing and ghost-production for very well-known artists which I am proud of but unfortunately can't name them. Also sticking to my childhood plan and releasing my debut on the day I promised myself as a child.
If someone has never heard your music, which 5 keywords would you personally use to describe what you and your music is all about?
Aryan King: Love, Emotions, memories, Sad, Gentle
With social media having a heavy impact on our lives and the music business in general, how do you handle criticism, haters and/or naysayers in general? Is it something you pay attention to, or simply ignore?
Aryan King: Everyone has their own point of view, every single person is separately born and raised, programmed, fed, bred, and so I respect everyone's opinion, I respect everyone's point of view. I'll go through the comments, gossip etc, to see if they're just doing it out of jealousy or hate or if there is a reality behind them. If there's anything in their words that will make me change myself or my music and turn me into a better person and a better musician, then definitely I'll appreciate it and work on it. If it's only criticism, and hatred then I simply ignore.
Which aspects of being an independent artist excites you most and which aspects discourages you most?
Aryan King: I'm excited the most because being independent gives me the ability to do exactly the type of music I am aiming for. But what discourages me is that the music industry is a powerful beast and more powerful than an individual independent artist when it comes to advertisement, promotions, concerts and things like that.
If you had a choice to go on tour with any acclaimed international artist in the near future, who would you choose, and why?
Aryan King:  John Mayer, Joe Bonamassa, Eric Clapton, Guns n Roses. Why? They motivate me, I see myself in the same horizon with them. They are in my taste, they are the reasons I am who I am. I think of those sounds and it feels like an ideal life.
Could you tell us something about your latest upcoming project and what fans can expect to hear?
Aryan King: Oh man! November-December 2020 my new album is going to be released. That's a deep untold love story. Album might include 6 to 8 Tracks.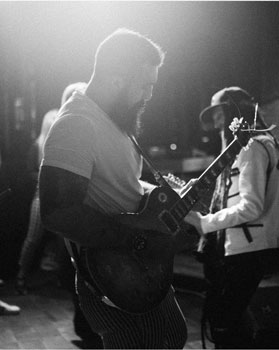 Do you have a personal favorite track amongst your compositions that has a specific backstory and/or message and meaning very special to you?
Aryan King: Every single track in my album is based on a true story, and every one of them means a lot to me. But the "She's gone" track has a really sharp and sad backstory.
Creative work in studio environment, or interaction with a live audience? Which of these two options excite you most? 
Aryan King: Live audience all the way! Improvisations on the stage, getting attached to audience and playing loud! It's a legal way of getting high)
What's your favorite motto, phrase or piece of advice, you try to live or inspire yourself by?
Aryan King: In my life I've set only 3 priorities for myself.  My parents, my Love and my music which is a reflection of me. Help everyone and never compare myself to anyone else. And never regret anything.
How essential do you think video is in relation to your music? Do you have a video you would suggest fans see, to get a better understanding of your craft?
Aryan King: So far I kept everything raw and ready for November's album. But there's a Behind scene of "What About" which they could see the 3 days progress of the studio record with mad and fun moments in it.
What do you find most rewarding about what you do? And do you have a specific vision or goal set in your mind that you would like to achieve in the near future?
Aryan King: Since I was 5-6 Years old, I wanted to be the world's best guitarist.
Connect with Aryan King on his website www.aryanking.com  and on Instagram www.instagram.com/aryanking_official – MUSIC STREAMS
Please follow and like us: