Currency is a multi-genre musician, singer and songwriter from West Africa (NIGERIA). He is currently pushing his single "Nostalgic Rhythm". He arrives with such an immaculately constructed sound and aesthetic that it swiftly indicates him as a highly creative artist. Currency is launching the next era with his most fully realized single yet. Sonically, the hallmarks are ultra-cinematic keyboards, pulsating bass, a hard but smooth beat which is highly danceable, jazzy electric guitar flourishes and caverns of echo, all of which contrast with his rich, resonant voice. The sound is distinctively Currency, but an unusual progression — it's somehow smooth and edgy at the same time.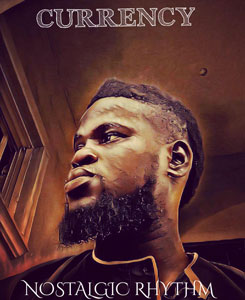 Currency's music has always been about dynamic atmospheres – just listen to the dramatic sonics on "Sinking" and "Hold On" – but here the beauty, the emotion and the rhythm, are all more smoothly integrated than ever. "Nostalgic Rhythm" shows one of the most interesting West African artists testing the balance between innovation, accessibility and commerciality as much as anyone today.
Thirty seconds into the song and it's clear that this is the most eloquently impacting we've ever heard Currency. A stunningly polished project, "Nostalgic Rhythm" emphasizes Currency's propensity for letting his voice saunter beautifully along the smoldering rhythm, as opposed to straining it to convey emotion.
Although the melody on the project contains powerful new-age R&B nuances, "Nostalgic Rhythm" also has funky pop elements drenched in pulsating electro crescendos and striking residual sentimentality in the vocals.
As Currency evolves from track to track, his music continues to grow with him, and he knows exactly how to leave fans hooked on his sound. And "Nostalgic Rhythm" is proof that he's not done with us yet; in fact, he's just getting started.
OFFICIAL LINKS: FACEBOOK – INSTAGRAM – MUSIC STREAMS
Please follow and like us: