"Una Estrellita Cayó" is a wonderful crossover album from an outstanding and experienced band, Chilo y sus Carnalitos, led by none other than Ysidro "Chilo" Cota, a Mexican singer, songwriter and entertainer. Chilo is a popular casino and club player with a host of music releases and a loyal following.  This album is impeccably styled and put together very well, where the strong vocal harmonies seem to float just above the precise rhythm and percussion.
This is completely joyful happy blissful music that soothes the soul and energizes the body. Get up and dance or simply enjoy the party from your seat. You don't even need to know a word of Spanish to feel all the love and happiness in this recording.
The writing, performance, recording mixing and mastering are all completely world class for this mixed blend of Latin and Country flavors. This album is an excellent choice, because it shows off the booming rancheras, lively cumbias, and touches of country styles that demonstrate the versatility of the band, and especially the vocal talents of Ysidro "Chilo" Cota. His voice is clear, strong, and sweet, with a distinctive timbre.
He has impeccable timing and cadence, which can be fully savored on tracks such as "Una Estrellita Cayó", "Hey Baby Que Pasò", "La Gùera Preciosa" and "Mi Media Nanaja". The band is in fine form, too: the all-instrumental "Atotonilco" set the room dancing, with a joyful spontaneity seldom seen around the house. Of course the accordion is king on these musical selections.
Bands come and go but you can tell that Chilo loves his music and his fans. If you're just now discovering Tejano music, this is an essential album for your collection. "Una Estrellita Cayó" is a shining diamond of the genre. All the songs here are danceable. Once upon a time Tejano music was sitting on top of the world and could hold its own with other forms of Latin music.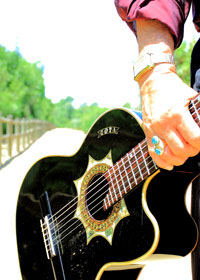 Sadly, those days are all but gone, with today's Tejano a shell of what it once was, but thanks to artists like Ysidro "Chilo" Cota and his Chilo y sus Carnalitos collective who fervently embrace this music with passion, we can thoroughly enjoy all those colorful rhythms and cantina storytelling.
MORE ABOUT: Ysidro "Chilo" Cota is a multitalented, singer, songwriter and entertainer. His roots are from the state of Sonora, Mexico. Chilo was raised in Gilbert, Arizona, a small town near Phoenix. He comes from a migrant family where his mom and dad used to travel from Arizona to California, and work the fields in Merced, Planada, Chowchila and Fresno, picking fruits and vegetables.
Chilo decided that the "fields" was not the way to go, and joined the U.S. Army, where he received his G.E.D. Since then Chilo has performed with Recording Artists such as Little Joe y La Familia, Agustine Ramirez, Ysidro Lopez, Lalo Guerrero, and many more. Today, Chilo and his band "Chilo y sus Carnalitos" perform in various casinos through the state of California, and are highly sought after.
OFFICIAL LINKS: ITUNES – AMAZON – FACEBOOK – IHEART
Please follow and like us: