Caitlin Strommen is a 25 year old, singer songwriter from Leicester in the United Kingdom. Her style ranges from pop to cinematic singer-songwriter strains. Caitlin writes all her own songs and is also a published author and a huge advocate for mental health awareness. She has her own blog called www.babyyourearichman.co.uk, while her books can be found on on Amazon, Waterstones online, Barnes and Noble Nook and Goodreads.
Her latest single "Hung The Moon" is both as the absolute antithesis, and the epitome, of the modern-day music industry. It's vulnerable, hopeful, unpredictable and exciting, all at the same time. The cinematic music pulls in one soulful, all-embracing direction, while Caitlin's sweetly breathless, yet determinedly angsty vocal delivery, soars towards another orientation.
"Hung The Moon" is a clash of contrasts which surprisingly blends into a 6 minute plus stream-of-consciousness narrative, where Caitlin Strommen unfolds and unpacks what seems like an endless momentum of thoughts, desires, details and doubts connected to emotions, sentiments and passions. The track is a statement of intent from this young artist, channeling her feelings and sensations into a fully realized musical vision that is as comforting as it is unsettling.
How Caitlin flips so effortlessly between positivity to negativity, from fortified to vulnerable, and from trustful to suspicious in one verse, is astounding, on "Hung The Moon". In doing so, she has created a track so unquestionably true to her emotional quirks and personality traits that fans will be offered a deeper insight into her internal process and psyche.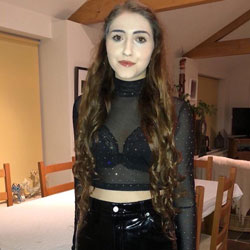 "Hung The Moon" is evidence of Caitlin Strommen's understanding of her own artistry, which is both unique and original. The production perfectly juxtaposes Catlin's almost conversational tones and angular vocals. On previous releases, Caitlin has already proved her capability of crafting intriguing pop songs. But where she shines most here is in embracing the contrasts of her darker side and lighter emotional sides.
Caitlin Strommen's art, is an ongoing workshop of words and music that cope with the inevitability of self-determination and self-discovery while striving for whatever elements can possibly lead to the unearthing of inter-relational and personal honesty.
"Hung The Moon" is innovative and stunning in its lyrical and musical explorations, proving her intelligence and skill as a songwriter. The single solidifies Caitlin Strommen's status as a uniquely left-field artist, who is boldly treading her own path.
OFFICIAL LINKS: WEBSITE – SPOTIFY – INSTAGRAM
Please follow and like us: