NY, NY– Acclaimed singer and songwriter Franki Love has recently launched a Kickstarter campaign to fund her latest album of inspiring and soulful songs with 432 Hz frequencies. The goal funding was met within days and it's currently 107% funded. For anyone who still wants to pledge, there's still time, however, the campaign will be ending soon.
Love has been working with sound and discovering its potential for affecting the consciousness for many years. She is especially interested in how music has the power to help heal as well as rejuvenate the spirit, mind and body. This unique music Love is creating is healing, meditative, soothing, positive and reaches deep into the soul and heart.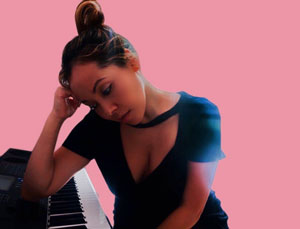 According to clinical researches, 432 Hz resonates with the heart chakra. Known as Verdi's A, 432 Hz is an alternative tuning, which is consistent along with the universe. Studies suggest that music based on this tuning sends therapeutically healing energy, as its pure tone of math essential to nature.
What's more, research proves that 432 Hz music resounds inside the person's body. It releases emotional blockages and aligning the person with the heartbeat of the universe. It is known that music boosts perception, unlocks intuition, and improves mental clarity. This is the main reason why Franki is passionate about launching her new album.
"It's been 4 years since I've released my last album, Otias. Inspiring and helping people is what interests me. This new album will have inspiring songs written on the piano with 432 Hz frequencies. I hope that it can help people feel more balanced, more in tune, and less alone," said Franki.
Creating a full-length album can be very costly. It involves costs with musicians, studio time, artwork, mixing, mastering, and manufacturing. Franki's last album, Otias, was a massive success, written directly after the death of her Mom from cancer to help heal herself and help others get thru hard times.
She funded Otias on Kickstarter and her loving fans and now she is back again on Kickstarter already having reached her funding goal with her new healing album. Franki's new album will be the third full-length album she will be releasing.
The first stretch goal is to reach $30,000 for a hospital and yoga studio tour. If they meet this goal, Love and her team will organize a tour to hospitals such as children's hospitals. They will visit patients to play them the album live and through the album recordings. What's more, they also plan to do performances at yoga studios and alternative venues within cities around the US.
The second stretch goal is to reach $50,000. Franki and her crew will make a documentary on how music can heal and improve people's immune systems. They hope to film and document their entire hospital tour.
To support Franki Love's mission you can share the campaign with your social network. Pledging and sharing can be done by visiting https://www.kickstarter.com/projects/flove/franki-love-a-healing-album.
About Franki Love
Franki Love is a world-renowned singer and songwriter living both in New York City and in Los Angeles. She is a classically trained pianist who grew up playing the piano at the age of four. She started her career by performing at different local coffee shops in Los Angeles.
To learn more about Franki Love, you can send Katy an email at frankiloveteam@gmail.com. Visit Franki's Kickstarter campaign page https://www.kickstarter.com/projects/flove/franki-love-a-healing-album.
Please follow and like us: