Den Kayo is an artist, DJ, and producer based in Los Angeles, California. He has his roots in Dance music and was always driven by catchy sounds and easy-to-remember melodies. Life is unpredictable. You either choose to embrace it or ignore your potential. My journey started with a happy coincidence. When I was 15 years old, I went to a music event with a friend where I met the owner of the venue. Unexpectedly, the owner asked me if I wanted to work as a Dj for him. With no previous djing experience, I accepted the job due to my strong passion for music. It was at that point in my life that I can get anything I wanted if I let go of my perception of "fear".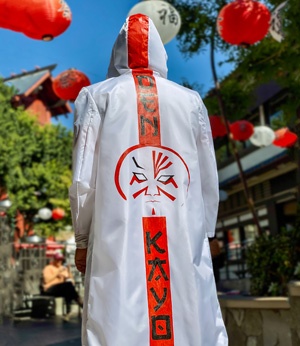 I was thrown into the music industry and had to quickly learn to adapt. I had a few DJ friends who later became my mentors. Every time they had a performance, I was in the crowd observing and learning my craft. As time passed, I started to get gigs in bigger cities around my hometown. In pursuing my dreams, I realized that I had to challenge myself in order to get where I wanted to be. So I decided to move to Florida, "The spring-breakers capital of East Coast". I became a part-time DJ at a club in the city of Destin, where I had the opportunity to understand that I wanted to take my music to the next level. I wanted to make a career in music. I set myself a new goal: To DJ at the largest club in the United States, Club La Vela in Panama City Beach, Florida.
After performing for 6,000 people, I realized that I achieved my goal. I was challenging myself my entire life and felt it was time to start a new journey. I thought that Los Angeles would be an excellent place for me. When I moved here, I was a small fish in a huge pond. I started to work at a restaurant where I soon began to DJ for their events and private parties. I eventually transitioned into making my own music but didn't have the tools and experience for music production. For the past year and a half, I went to a boutique music production school where I had challenges and triumphs, but I upped my game and felt a deeper appreciation for music.
I have always been fascinated with Asian culture; that's why my music and my brand is heavily influenced by Japanese life principles. One of the Japanese aesthetics that stood out is the word "Iki" which in English represents simplicity, spontaneity, and originality. As an artist, I do my best to keep an authentic representation of myself in my music with a minimalistic approach to my sound. Music creates an invisible and emotional bond between the performer and the crowd. The best feeling in the world is when you play your songs and everyone is losing themselves in that sound.
Performing for a multitude of clubs in Europe as well as the United States, he headlined for crowds as big as 6,000 people. Having a strong passion for music Den Kayo decided to take it to the next level and received a diploma in music production. He chose to open a recording studio in Los Angeles in order to do music full-time. Den Kayo is not afraid to take risks and you can feel that in his music. Originality in consistency is what drives him, when you will hear his songs it will be challenging to fit them into one genre. His unique sound is a hybrid of Bass House, House, Deep House, and a splash of Hip Hop. The distinctive style is what will get Den Kayo his first platinum record and eventually the Grammy award. That will create a new current in music.
OFFICIAL LINKS:
Instagram
https://www.instagram.com/denkayodj/
Facebook
https://www.facebook.com/denkayodj
Spotify
https://open.spotify.com/artist/1ie0HIRga3p8ZZrqZs1Ep7?si=LygpVizgR02xqkHZfxAWkg
Website
https://www.denkayo.com/
Soundcloud
https://soundcloud.com/den-kayo
Youtube
https://www.youtube.com/c/DenKayo
Where To Buy Music
https://music.apple.com/us/artist/den-kayo/1499242531
Please follow and like us: