Kori Miller aka KM is a hip-hop artist that currently resides in Charlotte, NC. Although KM was originally born on German soil and spent a few years of his early childhood in Arizona he calls Fredericksburg, Virginia home. KM has a corporate 9-5 but that doesn't stop him from performing at 12-16 open mics a month. Currently KM has been hitting every open mic venue in the Charlotte, NC region often stepping out to the outskirts on occasion for additional performance opportunities.
The biggest thing on KM's plate right now is pushing his new single "Anywhere" featuring the talented vocals of Charlotte's very own Jaron Strom. After dropping a few mixtapes this is KM's official debut single release. The song details the mindset that any goal is possible and there is no limitation to the level of success one can attain.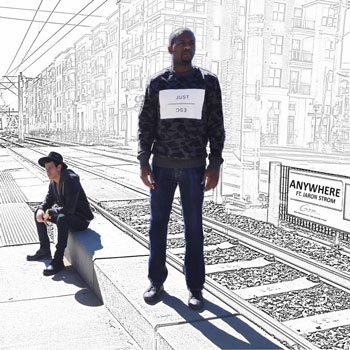 Threaded across a sound sample of the Bee Gees' 1979 mega-hit, "Too Much Heaven", KM weaves his soulful bars about trying to make it big in the music industry while holding down a job and living a normal day-to-day life full of struggles, love, hope and desires.
What is super special about KM is that he sounds chill and he seems to pick the right beats for his type of flow. Something not many rappers often get right. This track has all the polish that is found on all of his tracks, while the lyrical content is just as smart and inspired.
You also have to love the fact that KM actually keeps it real and raps about real life situations (especially his own here), which is pretty much nonexistent in any stream of hip hop these days. KM is the definition of skill largely carved out by sincere work ethic.
His thoughts are never random but completely focused, all coming together perfectly to make sense in any track that he does.  This, along with excellent production, gives his music great replay value.
This song shows a progression from his last single and is an obvious continuation of his evolution through artistic maturity. Jaron Strom adds a silky and soulful vocal hook which perfectly fits this track, and plays off well against KM's smooth and determined flow – whether you like hip-hop or not, this is really just good music. Period. If you don't know KM, "Anywhere" is a great way to get introduced!
OFFICIAL LINKS: WEBSITE – SOUNDCLOUD – ITUNES – FACEBOOK – TWITTER
Please follow and like us: