Connection to human emotion has long been the Swedish pop artist, Zandrah Mereborg's calling card. Despite her mastery of singing along to twisting synths, taut beat construction, unwaveringly melodies, and classic electronic song grids, she has never abandoned the realm of real emotion in her songs. In some ways, her latest single, "Love", moves dazzingly further in this direction. She has teamed up once again with collaborator Diego Gabriel Oviedo Bustos to bring a song of hope and positivity, in these troubled times.
"I wanted to bring some light into the life of those who feel overwhelmed in life and lost. I was inspired by people who felt alone in their suffering and at the same time felt not understood by the world around them," explains Zandrah Mereborg, who uses songwriting as a cathartic therapy tool to let all her feelings out. "Right now, with all that is going on in the world, it feels more relevant than ever. I wanted it to become a daily dose of positivity and love boost." To add more luster to the recording, 'Love' was mixed and mastered by Swedish producer, Ludvigsson.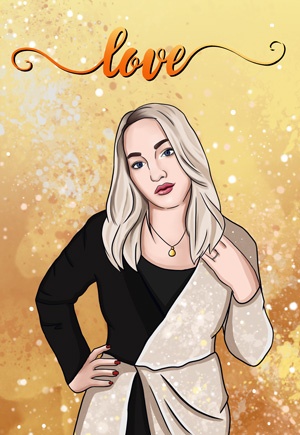 Shimmering synths dance around Zandrah Mereborg's intoxicating feather-light coo, as she explores the essence of her narrative. It's testament to her skills as a singer that she takes a topic explored a million times before and offers fresh perspective on the subject, aiming straight for the heart without seeming mawkish in simple lines like, "We cannot live in this cold world without love-love-love-love-love."
Those seeking a melody with immediacy, which blossoms into a four to the floor beat from its minimal beginnings, will find it here, as the song's charms unfurl quickly. "Love" is the logical next step for an artist who has always prioritized creative fulfilment, and emotional impact, ahead of all other external expectations.
Having dazzled, amazed and euphorically swept through her previous works with collaborator Diego Gabriel Oviedo Bustos, there was simultaneously a tremendous excitation and expectation to hear if "Love" matched the impact of those songs.
The truth of the matter is that it absolutely does. "Love" is an accomplished and intriguing record, scaling the highest peaks of Zandrah Mereborg's back catalogue. The joys of the record are found in every angle of its essence – from the melody to the vocals, the production, and the lyrics.
The glorious synth-shimmer, the introspective, existential call for human connection displayed throughout the caring heart of Zandrah's voice, and the glistening orchestral, emotional recall, which blends with the sensory stabs of the surefooted beat.
There is much here to admire and to appreciate in "Love", which ultimately resolves into a triumph. Very few electronic pop records manage to maintain absolute technical brilliance, and absolute emotional consistency throughout.
There is a strong beating heart here, and the sheer humanity of Zandrah Mereborg's soul is one of the most beautiful things in her music. The end result is mesmerizingly, and hypnotically, replay-friendly positivity. "Love" also sounds inspired, at a time when both musical creativity and human concern for others is in relatively short supply.
OFFICIAL LINKS:
Youtube:
https://youtu.be/yhfyL2kxLLw
Spotify:
https://open.spotify.com/track/74alKaav564x4qI9rAJO0Q?si=c8b7c29a60134313
Instagram:
https://instagram.com/zandrahmereborgmusic
Please follow and like us: