It is a harrowing task when writing a review of an album that is a flawless recording emotionally, but it is also an unequivocally important album musically. Mike Maurer (Guitars -Vocals-Lyrics), Collin Jiron (Drums) and Julie Maurer (Vocals) who make up Valentine & the Regard, are clever, intelligent, controversial, and they understand that what makes a song unforgettable is the writer's ability to touch the listener's heart.
They are breath of fresh air in a world where synthesizers are the norm, where pop stars succeed by looks and hooks rather than their talents and prowess, where rock n' roll is put in the back-burner in exchange for glossy pop hits. If anything, Valentine & the Regard are helping in bringing guitar rock back to prominence on "Girlfriends". And when I say guitar rock, I mean they even cut out the bass in the first part of the album.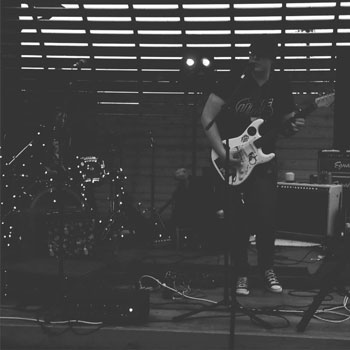 It's just jangling guitars, drums, vocals and plenty of reverb for that dark and eerie lo-fi effect. Towards the end of the album on tracks like "Driving Across California at Full Speed", "I Rely on You" and "This Queen I Have Found", you will hear the introduction of keyboards, but by then the best part of the album has concluded itself, so for me it remains just an afterthought.
The poetic and terminally heartbroken lyrics flow like beer on tap while the endearingly skewed sense of rock songwriting and introverted guitar virtuosity will grab your attention. When you put volatile creative forces together you have to expect something special, and that is exactly what this record is.
Mike Maurer's incredible musical ability at creating ringing guitar hooks throughout the album prevents it from ever becoming melancholy, which the lyrics threaten to do from time to time. At the same time though, Mike's lyrics lift the whole album to a completely new musical level, with poignant messages. And when you include the dynamic drumming and deviously emotional vocals, you have an album where the sum is truly greater than its parts…and by a long shot too!
How else would you explain standout tracks such as, "Lightning", "The Space Between Your Bed", "Bottles", "Must I Become", and "I Know What You See in Him".  Valentine & the Regard juxtaposition the elements of their songs, lacing the saddest moments with a wry, graveyard humor, tainting a beautiful melody with a brutal lyric, knocking you off kilter during a vibrant feel-good moment with a heartbreaking line that shifts the whole emphasis of the song.
If you want something startlingly out of the ordinary, grab this album. "Girlfriends", perfectly showcase the band's unique genius for expressing emotional yearning, frustration and despair in a way that is both poetically devastating and yet oddly disarming and uplifting.
OFFICIAL LINKS: BANDCAMP – ITUNES – SPOTIFY – FACEBOOK – TWITTER – INSTAGRAM – MERCHANDISE – VINYL
Please follow and like us: