The album 'In God We Trust Others Pay Cash' is further proof that Tommy Tony can turn his hand to just about any musical project. Whether it's down to the obvious passion and presence at the center of his music or simply his ability to pick productions which work for him, Tony can now boast a pattern of success from his solo debut album,  'Ca$h Only' , to this, his sophomore project, that would make many envious. In broad strokes, this new release is an album characterized by an obsessive duty to honor hip-hop's core elements, combined with an intense need to innovate. Kudos must also go to the producers for bringing Tommy Tony's messages to the forefront with some of the tightest production decisions, while the handful of features further embellish the recording. The opening track, 'Money Money' features an ominous bass line and regimented drum loop, which hammers home the focus on Tony's resonant voice and rhyming skills.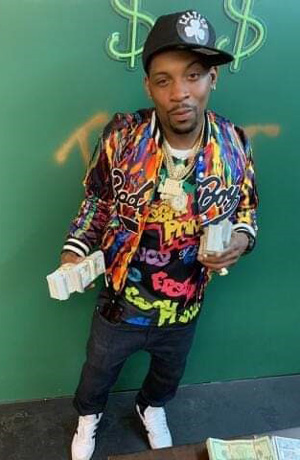 "Who's To Blame" ft. J-D maintains a remarkable intricacy throughout its ethereal production, deftly supporting the artist's ability to syncopate whilst supplying his signature lyricism. It's a track that pivots on the unique symbiosis between artist and production. 'Bu$y' is elevated by another starkly effective production while Tommy Tony's intricate gun flow, so intense but also melodic, is driven by a timely sense of purpose.
'Dying Slow' ft. Sin & J-D slides into a skittering beat, with caramel smooth piano that is just within ear's reach, while the raps are shrouded in levels of sonic power. The lines echo the rappers' conscious poetry. 'Gucci & Gold' ft. Kill Butta Kane unpacks the desire for opulence and the consequences thereof. Everything on this track feels potent and precise, laid down for a reason.
This is a record where the processes are honed and finessed – just listen to the sheer control on the downtempo '$uicide' and the melodically inclined, 'We Ain't $Tre$$In' ft Sincerely & Radical Flamez. All throughout the stylistic changes, Tommy Tony seems to tap into a pure love for the art, for the mic and its possibilities, and he excels on every front, fuses a thirst for both fresh innovation and classic interpretation.
'Kobe' and 'Exercising My Demons' is the sound of Tommy Tony bursting free, working with tour de force production to surge past expectations and claim his place in the conversation. Tony's flows are so sharp. He jumps on the beats and always finds a way to stomp on the pocket. Tony has a fluid style, which never sounds like he is overthinking. His rapping sounds instinctive, yet detailed. This is again evident on 'Wat U Mad At', and the album closer 'Glow In The Dark' ft. J-D. From a writing perspective, the 11 songs on this album define Tommy Tony as a top tier wordsmith.
Since his debut release, Tommy Tony has been surrounded by an aura of potential. His work on that project included some deeply impressive stuff, but there was a sense that he could – and would – do more. This album is where that potential comes together. 'In God We Trust Others Pay Cash' is an incredibly tight record packed with stellar performances, production and presence throughout. The core of hip-hop's legacy runs throughout the album, but Tommy Tony has redefined what that means in today's ever-changing landscape.
OFFICIAL LINKS:
IG: @tommytony7
Twitter @tommybutter
Facebook.com/tommytony617
Please follow and like us: