I love The Noctambulant. As a band, they've progressed so much since their previous efforts and they continue to grow and refine their sound beyond the black or death metal genres they are usually pigeonholed into. The production and performance qualities have also increased on their new album "Advocatus Diaboli", yet to be completely honest, the guitar solos were probably tighter and delivered with more communicative feeling on the previous EP recordings "Dreams of Rotten Silence" and "The Fear Leader". And even though, the sheer technical guitar playing abilities showcased on the new full length is undeniable, it probably will not replace the intense and intrinsic emotional and melodic solos forged on the previous EP's. Having said that though, overall, "Advocatus Diaboli", is a bone-crushing stunner for all metal fans!
The Noctambulant collective performing on the new album includes, E. Helvete (Guitars & Vocals), C. Berlinghoff (Guitars), Lars G. (Bass & Backing Vocals) and D. Franseth (Drums & Backing vocals).
Subsequent to this recording, the band finished their recent West Coast "Manifest Destiny" Tour as a 3 piece, although former guitarist John Hoarfrost joined for several shows near the end of the tour to add some extra zest into the overall sound and live performance quality.
But let's get back to the new album which continues the band's original style of black metal combined with harsh and growling vocals. Musically, the album is no different than any of the other releases produced by the band, except that it's an enhanced, pimped up and rather entertaining, energy-driven improvement of what came before – and enough to make you bang your head out.
You will discover bone-crushing brutality from the opening track "Legion" right up until the album closer "Winter's Hell Dominion". And though The Noctambulant uses melody in a more profound way than they have in the past, the songs are all still as brutal as a back-alley gang beating.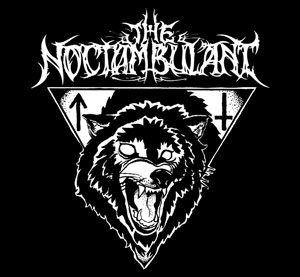 Drummer D. Franseth's acrobatic beats are like a fusillade of kicks to the ribs, E. Helvete and C. Berlinghoff's crunching guitars and squealing fills are heavy as a mausoleum and their licks ensnare like giant fish hooks while the vocals range from red-faced to demonic. The Noctambulant sound more focused than ever here, and thoroughly deserving of their status as one of metal's better underground bands.
The Noctambulant has created visceral, rhythmically complex songs influenced by death and black metal and Pantera-style power groove. On each of the 10 tracks here, the band has delved into various riffing techniques, angular guitar lines and growled vocal styles and created some classic and influential songs, of which the best probably are: "Dreams of Rotten Silence", "Death's Lullaby", "Evil Calling", "Goddess", "Blood For Life" and "Accept Or Burn".
The songs on "Advocatus Diaboli" drip with real devastation and rabid ferocity that any head banger would be hard pressed to resist a concussion. Whether or not this is the band's best recording to date, I'll leave you to decide, but it certainly does live up to those claims. On the same note, it's a practical and madness-provoking piece of modern metal mayhem deserving of a place in any metal head's home stereo. Crank the volume to eleven and rock out!
OFFICIAL LINKS: WEBSITE – FACEBOOK – YOUTUBE
Please follow and like us: