The Metro Cartel's B.I.G. Fella & Duck Lo link up with Gravidy Gang's Jerome Anthony for a groovy collaboration. Each emcee takes turns spitting over DC Pretty Tony's upbeat and soulful Barbara Lewis-sampling production on the track "Chop It Up".
The emcees approach the entirety of this track, like a friendly battle rap arena. From the opening moments to the concluding taunts, and with the help of equally explicit and sexually orientated combative verses, B.I.G. Fella & Duck Lo together with Jerome Anthony bring a stalwart defiance and an unwavering energy to "Chop It Up".
The three minute and twenty-nine second run time is filled with explosive verses which all land with a solid sting and can be seen as a welcome and relentless string of verbal blows which showcase that that these fellas are on fire.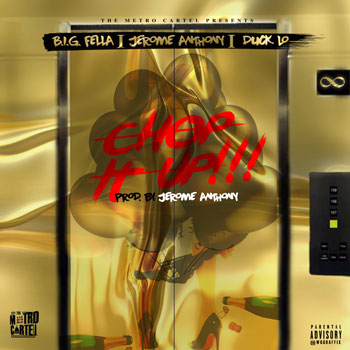 Success sounds almost certain as the incredibly witty word play is brought up several notches. Obviously we're talking about underground success. As "Chop It Up" won't be able to go anywhere near mainstream radio with all that pussy talk, notwithstanding all the sweet shoo-bop, shoo-bop interludes. This track showcases terrific and wickedly verbose verses centralized on the most desired part of the female anatomy. Is this just too much for rap music to handle?
If you've been following Lil Wayne's career, especially you may have heard the word "pussy" come up more than once. It's undoubtedly one of the rapper's favorite topics, and he's gotten plenty of flack for it as a result.
However the rapper explained his case rather eloquently in an interview with Elliott Wilson, who gravitated towards Wayne's particular fixation with the female anatomy instead of maybe tackling social or political issues. "What you want me to talk about, the world?" replied Wayne. "I ain't no god damn professor. That ain't what I set out to do," he explained. "Ya'll got to remember, I started doing this shit at 8, man. At 8, I ain't trying to tell you what's right from wrong in my raps. And I'm still not trying to tell you what's right from wrong. That's not my job. I'm a musician."
To my mind, The Metro Cartel's B.I.G. Fella & Duck Lo and Gravidy Gang's Jerome Anthony certainly need no other words in their defense than the ones above. Pussy talk in rap has been, still is, and always will be the rage. Hell dude, pussy talk don't even need no goddamn rap or hip-hop music just to "Chop It Up" with someone over!
No disrespect to the legends but a lot of them sound so tired these days, while The Metro Cartel x Jerome Anthony are truly entertaining listeners with "Chop It Up" (Prod. By DC Pretty Tony).
Follow: @TheMetroCartel @DCJeromeAnthony
Please follow and like us: