The Goldilocks Enigma is made up of an experienced husband and wife singer/songwriting team whose first and foremost mission is to worship Jesus Christ, God, Elohim, El Shaddai, Jehovah Jirah in the midst of present day America. They claim to not seek fame or fortune, and are trying to steer clear of the vanity that can be found in music. "We hope our music will land in the ears of those that find themselves in a position to allow it to prick their heart and point them to Christ," says the duo.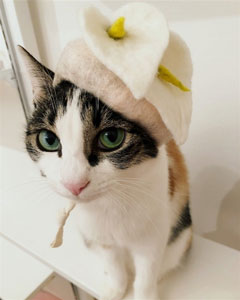 The Goldilocks Enigma are currently working on the release of their album, "March To Crumbling", set to drop during March, and are currently promoting their single "Free Will Isn't Free". This project is refreshingly different than other 'artists' out there with all-fluff-no-substance lyrics.
In my opinion, their lyrics show a depth in doctrinal understanding of contemporary teachings of the Christian faith. Lead vocals are great with words enunciated so you can understand them. Each of their songs has a good Christian message with great melodies and an easy-on-the-ear blend of instruments.
The aforementioned qualities also applies to "Free Will Isn't Free". The lyrics are more than relevant as they point to our continual contradictions and charades. The arrangement is superb, and the vocals rich and strong.
The Goldilocks Enigma have been able to carve this track out of hope and revelation, understanding what it means to live like we are free to struggle, instead of struggling to earn the freedom that we already have. They warn us about the fallacies spread to defraud us of our permanent home in the midst of living with Christ by our side throughout the hurt we may endure in our earthly lives.
Musical acuteness coupled with lyrical transparency and hopeful motivation permeates through the track. Assuring, sobering and hauntingly refreshing, the melody offers up solace that God is in the midst of our struggles, and the promise of eternity spurring us on in our daily walk, if we're able to look past the lies and false promises fabricated by our fellowmen.
This song, and I would imagine, in extension, the album as a whole, depicts beauty in the midst of calamity, hope in the midst of trials and healing as a result of pain and hurt. God is with us in the struggle and we ought to keep remembering His faithfulness to us, rather than fall foul to false idols in the flesh.
The Goldilocks Enigma confirm throughout "Free Will Isn't Free", that being honest with ourselves and with God, is actually the most freeing thing we can do. This message is really needed in today's twisted society and The Goldilocks Enigma delivers a home run with this song. Its function as a vital tool in equipping us towards becoming better Disciples of Christ, is evident.
The production value for "Free Will Isn't Free" is polished and sophisticated.  It continues the duo's Adult Contemporary Rock sound but it delivers a smoother multi-dimensional character. "March To Crumbling" will be a full length 13 song digital release March 2020.
OFFICIAL LINKS: SPOTIFY – SOUNDCLOUD – YOUTUBE
Please follow and like us: