Release Party on September 11 at Lost Lake Lounge in Denver, CO
The Denver trio The BRKN wrap energetic pop in warm synths, straddling punk, alternative, indie rock, and electronic all at once on their new EP, Come Outside available on all streaming platforms now. Stream it here: https://ingroov.es/come-outside . The BRKN is Jacob Cade [vocals, guitar], Mike Bokenkamp [drums], and MJ Younkers [guitar].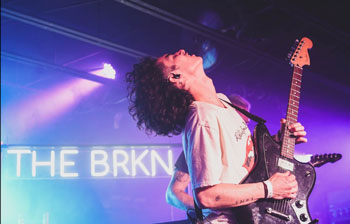 "We want you to know we're going through the same things you are, and we're your friends from far away," exclaims Jacob. "I'm so passionate about music because it's the only thing that made me feel less alone. When you're sad or alienated, music will be there."

The BRKN released their debut EP No. 3 in early 2020 and headed out on what was supposed to be a lengthy tour run but after one date the world went into quarantine due to Covid-19 and the band headed home. Stuck at home and afforded the time to experiment, the three-piece stretched the boundaries of their signature style. Nodding to influences such as Prince, Michael Jackson, and The 1975, they seamlessly integrated synths into their sonic palette.
They paved the way for Come Outside with a series of songs and videos for "Be Cool," "Calm Down," "Lovers," and "Lost Boy." Also on the EP, "Fake Love" struts forward on a wild and uncontainable guitar riff before snapping back into another bombastic refrain. On the other end of the spectrum, "Therapy Session" moves like a sunny and upbeat bop but cuts much deeper.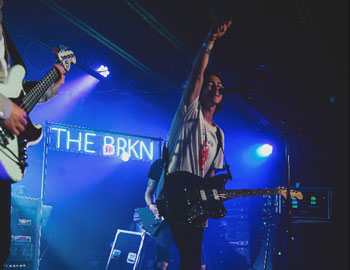 The band is ready to get back on the road and is premiering a live video for "Lost Boy."

"Playing live shows again is pretty surreal. It's been so much fun to play these new songs live and the energy in the room is just so positive. I'm here for it." – Mike
"It's such a euphoric feeling to be able to finally play shows again and on top of that have our fans be so into it and show out. This is just the beginning" – Jacob
"Playing live again is like that first breath of fresh air after holding your breath underwater for too long. The energy courses from the stage to the crowd and back to the stage. I can't wait to share that environment again at each coming show!" – MJ
Follow them at-
https://open.spotify.com/artist/679zyHJJpyIbALkB1Q10GY
https://instagram.com/thebrkn
https://twitter.com/the_BRKN
https://facebook.com/thebrkn
Please follow and like us: