After extensively touring the world Jade formed the alternative rock band, Stomp Box, which released its 13 track debut album, entitled 'Cerebral Vortex', in 2006. The band also lends its name to the Stomp Box Studio where Jade writes, records, engineers, produces and releases the band's music. Not least, their latest album, entitled "Gravity Of Goodbye".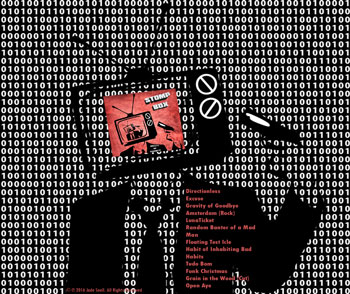 Unfortunately, in this day and age of mp3 singles, the art of putting together a work that moves you from beginning to end is becoming less frequent. None the less this album is a one of the best examples of where pure art and commerciality live side by side.
All the 12 pieces are so strong melodically and rhythmically it's a real testament to Jade's strength as a composer. And it's quite an achievement for such a left field player. But it's all great music. No sell out – Its excellent rock, fusion, tribal and dance, in the pop world. There is something here for everyone. And it's only thirty five minutes, where not even one is wasted.
"Gravity Of Goodbye" embraces several styles, some with crazy time signatures and difficult vocal melodies that most bands couldn't even pull off with a few weeks of rehearsal; Stomp Box make it sound easy, rollicking, funky and even bluesy.
If like me, you're new to Stomp Box this would be a good as any place to start: playful, heavy and strange music, whimsical weirdness changing direction and pace all urging you to keep up. If I really need to convince you how great this album is, just listen to two back-to-back tracks, "Floating Test Icle" and "Habit of Inhabiting Bad Habits".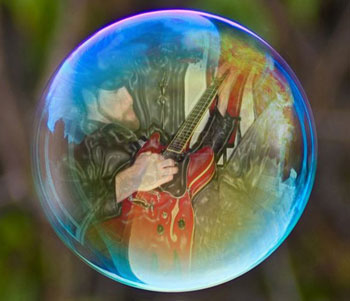 Trust me, it's that simple. If you're still on the fence, then skip to "Grain in the Wood (Cut)". These three tracks capture all the lusciously layered rock weirdness Stomp Box is able to stuff into 3 or 4 minutes of playing time.
This album combines great musicianship, balls to the wall playing and just a perceptible touch of an arch sense of humor. At times I was absolutely floored by the complexity, artistry, and beauty of this album. I just wasn't expecting such breathtaking composition and arrangements in a pretty much superficial age, musically speaking.
If "Gravity of Goodbye" and "Excuse" were the only two songs on the album, I'd still call it amazing and more worthwhile than half of the junk in this year's musical collection.  If you are a music fan with a wide mix of genres who enjoys a slightly leftfield listening experience, this album belongs in your collection.
This is the sort of record that you can just stick in the machine and allow it to bounce around the room and take on a life of its own.
OFFICIAL LINKS: ITUNES – AMAZON – SPOTIFY – CDBABY – FACEBOOK – REVERBNATION – YOUTUBE
Please follow and like us: