On 'Rockstar', up and coming EDM producer RAZULII delivers yet another endorphin filler. The Israeli craftsman slams it here, and he has us clinging to his every note. It is enticing right away, and the thrills don't fade as the music progresses. RAZULII's music is hard-hitting here, and he demonstrates why he is striving to reach the mainstage at Tomorrowland. He strengthens his signature sound, and he doesn't hold back in giving us a new dimension while remaining true to modern electronic dance music norms.
Inspired by talented artists like David Guetta and Morten, 'Rockstar' is the first track from RAZULII's new EP, 'Future Rave'. Overall, with this single RAZULII has knocked it out of the park. The tune is energizing, with a powerful and thrusting rhythm that also has a vocal trope on top. Furthermore, it is an emotional rollercoaster that will leave an indelible impression from the first time you hear it. The track is filled to the brim with energy, and just when it's about to implode, it ends.
Throw in a thumping kick drum with the fast-paced twist of a sweeping synthesizer against the underlying rumble of a skittering bassline and you have a fantastic mix. Adding the dynamic and ominous voice on top of that results in something emotional and diverse. 'Rockstar' is definitely a song that fits in with the EDM dancefloor masses. It does what it sets out to do, and it does it surprisingly well.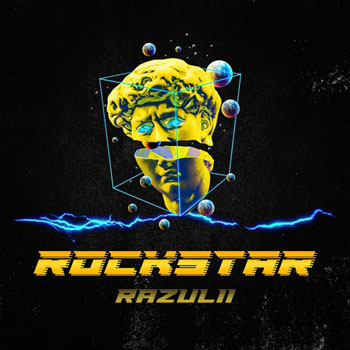 RAZULII has woven a production that is going to appeal to a large group of people, and there is a reason for that. It embodies all that electronic dance music should without overstaying its welcome. All its elements are perfectly crafted for making it epic. After an amorphous intro, 'Rockstar' unleashes with a burst of energy, the concentrated dose of the synths sway with a powerful bassline, a characteristic much needed in this style.
RAZULII resume already boasts an impressive discography of originals, remixes, and features, proving again and again his ability to evolve with the ever-changing landscape of electronic music. Perhaps even more telling of his razor-sharp prowess and visionary mindset is the release of 'Rockstar'. Here RAZULII meticulous skill as a producer comes to the fore. The song really is flawless from start to finish. Some producers have a formula they stick to, RAZULII is able o evolve with each release.
'Rockstar' has a lot to love if you're looking for dancefloor momentum. RAZULII artfully and freely combines all the tricks and treats of EDM, and customizes them to create something dynamic, capturing your attention by giving it a compelling sound and rhythm. This track instantly sends vibes up and down your spine. It has a dramatically intriguing beginning, and it's almost like RAZULII is slowly luring the listener in, before the track erupts into action.
RAZULII creates an immersive experience by way of an electrifying beat on 'Rockstar' and extends it into something all his own. RAZULII does a great job in making the beat able to play along well to the strengths of the trap-like vocal interludes. 'Rockstar' is certainly a sure bet for a party, tuning up the energy in the room to maximum levels!
ALL OFFICIAL LINKS: https://linktr.ee/itsrazulii
Please follow and like us: