PINZORO is an electronica duo from Seoul, South Korea. They are one of the main artists on electronic music label LetzRatz. "Bad Clouds" is the duo's debut Single. By all accounts, PINZORO are really nice people. Fittingly, this is a really nice single. It never makes you mad, it shows up when it says it will, and it's there for you when you need it, and what it has to say is filled with gorgeous dance floor groove.
If this year's formula for hit electronic singles is anything to go by, then producers should know that different is good. However, different can sometimes be very difficult for some artists to adjust to. PINZORO hit the nail right on the head with "Bad Clouds".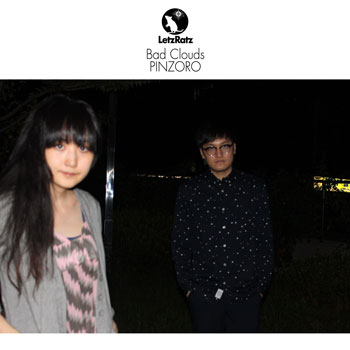 Fans and genre loyalists will find a lot to enjoy, and hipsters are going to like it too. The synth line is so enrapturingly catchy that even listeners, who shy away from dance, will be tapping their toes to the quirky keyboard lines, while the sparse, low-key female vocal keeps things sultry and mysterious.
So let's focus on PINZORO's attempt to be a little different. The track makes for a really good listen, and sounds better every time you hear it. It could be a regular big room track, but you can notice that a good amount of work has gone into the song.
However, I must repeat that it's that amazingly catchy keyboard melody and the production of this track that has absolutely nailed it, and where PINZORO shows signs of brilliance. Easy on the ear sounds and the simple vocals actually add to making the track a more memorable one.
Once you get into about the first minute of "Bad Clouds" you'll hear PINZORO's unique rhythmic style. Plus they've incorporated subtle breakdowns and buildups that propel the song forward in a smooth way. This is something that is used by far too few producers today.
Everyone seems to opt for big explosive drops, which is getting a bit stale. I'm looking forward to hearing any new stuff PINZORO will be producing, to see exactly where they will be going with their sound in the future.
-Follow PINZORO
SoundCloud: http://soundcloud.com/PINZORO
Facebook: http://www.facebook.com/pinzoromusic
YouTube[LetzRatz]: http://www.youtube.com/channel/UC0sHpN1OtiuF_1ynO5Klgyg
Contact: http://www.letzratz.com/#!contact/c16fm
-Follow LetzRatz
Home: http://www.letzratz.com
SoundCloud: http://soundcloud.com/LetzRatz
YouTube: http://www.youtube.com/channel/UC0sHpN1OtiuF_1ynO5Klgyg
Instagram: http://www.instagram.com/letzratz
Facebook: http://www.facebook.com/LetzRatz
Twitter: http://twitter.com/letzratz
Contact: http://www.letzratz.com/#!contact/c16fm
-PINZORO – Bad Clouds (Single) OUT Now!
Choose Your Store: http://www.letzratz.com/#!bad-clouds/…
iTunes: https://itunes.apple.com/us/album/bad…
Spotify: http://play.spotify.com/album/1vx3RVm…
Beatport: http://www.beatport.com/release/bad-c…
Please follow and like us: