The new year has gotten off to a great start when it comes to hip-hop and rap. I've bumped into a handful of independent artists this month that bring back the eighties and nineties style of hard hitting lyrical rap with meaning. They're all about that aggressive, get-punched-in-the-face type of music.  A classic combination of battle-styled raps over thumping production.   At the frontline of these you will find Outnumbered But Deadly aka OBD, a hip hop duo made up of Kawil & D-tech. Originally formed in 2011, OBD is based out of Rotterdam in the Netherlands. They kick off 2019 with their brand new single, "Talk Is Cheap". If I could describe this release in a few adjectives they would definitely include classic, raw, and visionary.
To me, "Talk Is Cheap" certainly has the three qualities that make up a great recording, amazing production, thought-provoking lyrics, and a continuous incendiary flow. OBD are original, focused, intellectual but still extremely lethal with their music. Street terminology, and profound philosophical points, all delivered through aggressive, cutting flows over a boom bapping experimental hip hop beat.
It is a cornerstone in alternative production and one of the more classically inclined records to emerge from the hip hop underground of late. OBD have evolved to become one of the better duos in hip hop. With horrible music coming out of the radio each day, it's nice to see a group come up with something new and aggressive.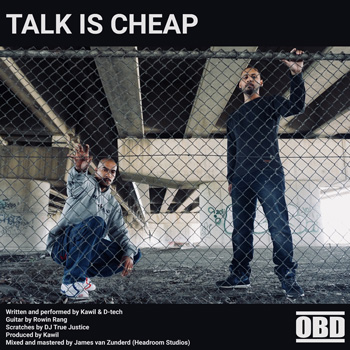 If you're looking for a brilliant hip hop track that reminds you of the Golden Era, you'll find it here. You'll find a track jam packed with slamming production by Kawil, aggressive flows and incredibly intricate allusions to all sorts of socio-political concepts, courtesy of both Kawil & D-tech.
The two make a deadly combination, and how well Outnumbered But Deadly execute their ideas, is reason enough to make any hip hop fan excited. The cherry on top is the scratching by DJ True Justice. Gritty and uncut, "Talk Is Cheap". With this track, OBD cement themselves as one of the better duos in hip-hop in recent memory.
Underground artists like OBD can use any beat and their raw rhymes will still reflect the sharpness of their minds. Now put that same lyrical attack to a stunning beat like that on "Talk Is Cheap" and the results are explosive. What makes a group amazing is the ability to create a sound that is different but at the same time creates a sound that our ears embrace.
OBD is busy carving its niche into the hip hop scene by doing just that. OBD brings something to the hip hop scene that many others have long left behind – integrity – and thus it requires outstanding performers and songwriters to create narratives that most rappers won't venture into anymore.
OBD is essentially for people who want music that gives them thoughtful concepts and ideas, not the same static song after song heard on the mainstream scene. I haven't known about OBD as long as I would have liked to, but as soon as I started hearing their work, about a year ago, I was hooked. "Talk Is Cheap" certainly serves to consolidate that position on my playlist. Unashamedly revolutionary, and fearlessly brave, Outnumbered But Deadly deserve respect.
OFFICIAL LINKS: WEBSITE – FACEBOOK – INSTAGRAM – SOUNDCLOUD – BANDCAMP – YOUTUBE
Please follow and like us: