"Now That You Are Mine" by Lyndon Rivers ft. Adam Parker is just fun and soaring vocals that bring a smile to your face. It opens with some Euro-Pop synths, which sets the scene for a full throttle harmonious bout of sing along danceable fun. There is no lyric sheet and you don't need it as everything is very clear and unchallenging, which some will see as a criticism, but this is escapist fun and full of positivity and good times.
Lyndon Rivers is such a wonderful songwriter-producer with a joyous and upbeat rhythm. Together with singer Adam Parker they sound like they're having a blast, and listening to this track you're right there with them. Good vocals are real important to me – if the vocals aren't there, I can't handle it no matter how good the music is. Adam has a diverse sound, sometimes smooth, sometimes sweet, but never unpleasantly so. It works with the music to create kind of a carefree, effervescent sound.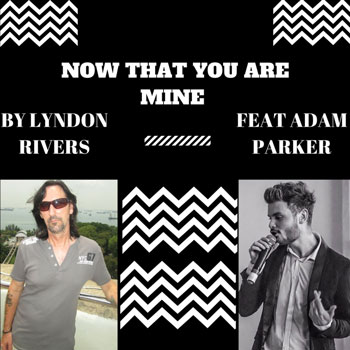 The whole arrangement sizzles and pops from start to finish. Lyndon Rivers has that indie pop-dance sound and it seems like his perfected that formula with this track. It's not quite pop, it's not quite EDM, but its slap-bang in the middle, extremely accessible and would probably appeal to almost anyone.
For anyone wondering whether "Now That You Are Mine" delivers, the answer is a strong yes. The two and a half minute sample on Reverbnation was just a tease, leaving my foot tapping, hands clapping and me wanting more.This will probably be categorized under pop music but I really think it has a wider appeal than just pop music. Elements of dance, electronica and alternative pop are incorporated into this release as well as indie.
This is infectious music that is full of wonderful synths, vocals and smiles.  Lyndon Rivers has had some good releases in 2015, such as "It Never Seems To Last" ft. Felicity Robinson, "Waiting For You" ft. Jamie Newton, "Give A Reason" ft. Corey Ernie and "Gotta Feeling" ft. Nika Nova, but I think this could be the catchiest release so far.
"Now That You Are Mine" by Lyndon Rivers ft. Adam Parker will probably get the most spins and repeated listens because it is just fun, about love, positive and uplifting, and at music's core, isn't that what it should be about?
Lyndon Rivers might still be flying under the radar currently, waiting for that right break to come along, but this Bristol-born songwriter- producer, now residing in Perth, Western Australia, is something to behold. His energy is palpable and his songs are highly addictive.
OFFICIAL LINKS: REVERBNATION – AMAZON – FACEBOOK – TWITTER – ITUNES

Please follow and like us: