Alternative rock music should not be this good. In a genre that is quickly becoming infested with cookie cutter, manufactured major label robots, Sammi Z (lead vocals), Daphne Rose (backing vocals), Chadvick (guitar), Sinjin (bass, guitar, vocals), Harold "Stix"Smith (drums) and Rome Warren (keyboards), who form the band, NeXt X, deliver a big breath of fresh air. Everything about them: the varied singing, the beats and rhythms, and the more melodious moments, flow seamlessly into each other. Their EP "Songs of Our Summer" marks the victorious resolution of the band's plethora of sticky styles.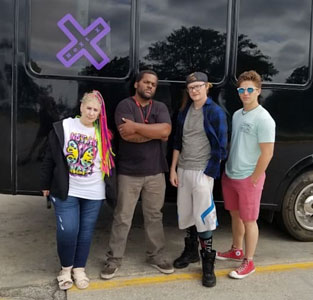 The band pokes their heads into the sunshine island rhythm of "Palm Tree", where mellifluous harmonies meet jangling guitars and a hip-swaying groove. They then pull back into the comfort zone of the handclapping beat on "89 Cadillac", awash with feel-good nostalgia and sweet melody. They then go with rap dalliances and an urgent beat on the more aggressive "Rebel" ft. Vida Rose, showing off their ability to switch between styles almost effortlessly.
The NeXt X website states: "Out of the darkness, in defiance of life nothing has stopped us from getting here. Each of our members has survived and overcame severe medical issues." That frank determination is transmitted through the undertones of all the band's music. Nothing is overdone, overplayed or over-sung, but everything is thoroughly fleshed out to produce pristine presentations of their creations.
The songs NeXt X compose, perform and produce, have a magical, timeless quality. You could fit catchy tunes like "Palm Tree" or "89 Cadillac" into just about any decade you care to think of, and they would never seem out of place.
That says a whole lot about the quality of the melodies and harmonies NeXt X inject into their songs. You could never go backward in time, musically, without those two essential qualities to lift you above the noise.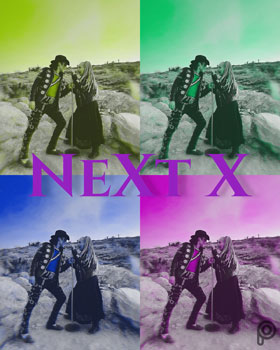 Even in the modern musical landscape, it is still in fact, the mesmerizing melodies which NeXt X composes that sets them apart from the pack. Though it does help that the arrangements are tastefully thought-out and perfectly executed by a proficient collective of musicians.
If you're not nodding your head and tapping your feet within 10 seconds of "Palm Tree", you'll need to check your pulse rate. You may be dead. Seriously folks, NeXt X builds up an infectious groove here, which is hard to resist.
The music on "Rebel" ft. Vida Rose feels unrehearsed and dangerously raw. All of which makes it purely majestic, and damn mesmerizing.  There are times when you can't really figure out what genre a band fits into, and NeXt X half finds its way into that statement. Yes they're Alt-rock, but that's a very wide definition. They merge explosively charged moments into unexpected melodic motifs.
The music of NeXt X digs itself inside of you and has you moving into a different state of mind. In fact, "Rebel" ft. Vida Rose captivates the subconscious and delivers a powerful hint of rebellious attitude. A nice driving beat and sense of urgency make this song a winner.
The most important defining factor of NeXt X, is that they are not a band with a static style, so you can enjoy their current work, and eagerly await their next release, not knowing what to expect.
OFFICIAL LINKS: FACEBOOK – INSTAGRAM – TIKTOK – YOUTUBE – @Nextx_band – @nextxband
NeXt X are finalists in the Jack Daniel's Battle of the Bar Bands!
Their Personal link
https://ul.ink/Z2BM-QRS8
http://www.jdbattleofthebarbands.com/
Please vote Daily and Share
They won their regional for Las Vegas (No Easy feat).
NeXt X needs your help. Voting opens on July 3, 2021 they need your help it can help save their music school and studio.
* Dates: 7/3-7/25 at 11:59pm PST.
* Voting URL: www.jdbattleofthebarbands.com
* Voters can vote once a day as long as they're 21+ – rally the troops!
* One lucky voter will win a $500 gift card.
Voting runs 7/3-7/25 at www.jdbattleofthebarbands.com and everyone can vote once per day.
NeXt X will also be touring with Bootsy Collins son Ouiwey Collins and the Funksquad. They have already headlined at The Bourre in Atlantic City, and played at The New Penny Scranton Pa and In Cincinnati, Ohio with Ouiwey Collins and the Funksquad.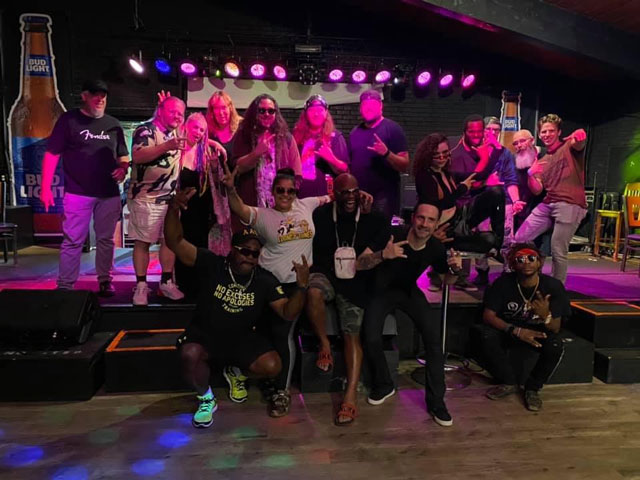 Please follow and like us: