Whether it's a critically acclaimed concept album like "Light vs Dark", or an attempt to bridge his profound lyrical authenticity to listener accessibility, the uncompromising hip-hop artist from Woodbridge, Mr.Reaper, raps like he has something to prove. His latest single "Awaken", is the sound of someone tired of dancing around issues. Every bar feels like something Mr.Reaper is unloading from the deepest parts of his chest, as his familiar voice stays locked in, to a calculated rumble of non-stop rhyming.
"Awaken" rightly becomes another golden achievement for Mr.Reaper, by finding a sound as insistent, delicately crushing and definable as its inspiration. The beat on here is tough but contains multitudes of atmosphere, a rich vein of slow-burning rhythm with plenty to discover underneath the surface. "Awaken" is something special, as it stares directly towards the foe Mr.Reaper is eyeing, circling like a wary fighter who is out to confront.
In all honesty, I think "Awaken" might be Mr.Reaper's finest single release. This is not the sound of some young artist trying to make their first big swing, but the maturity and refinement, of an emcee confidently in control of his theme and subject. It is a fantastically conceived and realized single – not a second overlong or note out of place. It's not the kind of song that wastes time on flashy features and a crazy beat to demand your attention. The power of attraction is in the rapping.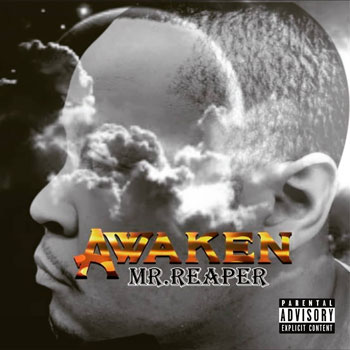 The thoughtful production and Mr.Reaper's sonorous voice and meticulous delivery on the mic, will make you fully absorb everything that's going on just beneath the surface. As you stick with the track, it reveals itself to you, and you begin to realize how much information the rapper is really packing into these verses. "I keep moving, no matter what you throw at me. You can't stop, or even try to tame this beast," raps Mr.Reaper. His surefooted confidence looking inward, and communicating on an intimate level.
To weave both honest emotion and outspoken words into music is a skill that most of hiphop's greats have exemplified at some point throughout their career, and Mr.Reaper is an artist who does it with ease. Given that description, a listener would expect a lyrically intense record, packed with verbose commentary and in-depth introspection, and that is exactly what Mr.Reaper delivers. He delivers a raw and unapologetic performance that is perfectly restrained, as he never needs to use vocal histrionics to make his point. It's all in the words, nuance and flow.
"Awaken" definitely stands out as a memorable moment in Mr.Reaper's catalog, which once again shows how a lyrically inclined song, is truly at its best when Mr.Reaper is holding the reins. "Awaken" doesn't feel preachy, self-pitying, or overly confrontational; it just feels honest and delightfully self-assured, notwithstanding the issues or struggles Mr.Reaper might be facing. Everything I've heard from Mr.Reaper thus far, has been absolutely spectacular, and "Awaken" represents another incredible achievement.
If you have listened to any of Mr.Reaper's work in the past, you are already familiar with his commanding style and temperament as a rapper. If you are new to the party, "Awaken" is your chance to jump on the bandwagon.
OFFICIAL LINKS:
Website:
http://reapgotflowz.net
Instagram:
http://instagram.com/darealmr.reaper
Facebook:
http://facebook.com/Reapthajackal
Twitter
http://twitter.com/Reapthajackal
Spotify
https://open.spotify.com/track/26xgBB5d5hg5RAwW89ZJAc?si=zBKMNF2yTv-Y6T4_3ENPMQ&utm_source=copy-link
Apple Music
https://music.apple.com/us/album/awaken-single/1598174870?ls
Please follow and like us: