"Yb It" the latest offering from Mangy Tomkaz is, without a doubt, his best musical work so far. There is so much vibrant groove in this EP. It sounds like the instruments and layers are all intertwined in a massive web of sonic emotion. What stands out is how powerful the drums come through in the mix. The kicks have this incredible punchiness to them as they speed towards the listener. The synth work is also flawlessly clean and polished. When necessary, the sounds become accompanying layers that thicken the mix and add to the melodic progressions. At other times, the synths come through in a dominating and aggressive way.
All throughout "Yb It", Mangy Tomkaz shows that he is able to create tracks worthy, of not only driving the dancefloor, but also associable with epic film soundtracks. All of the musical components work so symbiotically throughout the EP that you never feel that anything is encroaching on the sonic space of the other, yet they are all tightly knit. The force of the production can be felt through your headphones, as the melodies, articulation and rhythms Mangy Tomkaz brings to these tracks exponentially increase their likelihood of getting stuck in your head.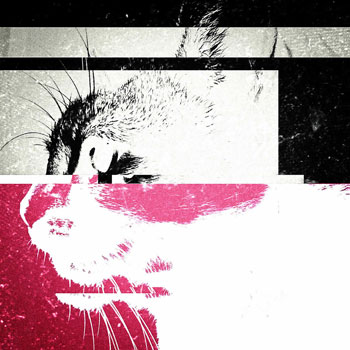 "Dance It Dead" is a standout track for its instrumental arrangement alone. The tempo is upbeat and pushes you to feel the energy it's putting out. If you're not bopping your head back and forth like some kind of intergalactic traveler, then you're not listening at all.
Something that could go unnoticed, but definitely will not here, is Mangy Tomkaz' spectacular ability to switch from a poignantly understated intro to a powerful thumping and forceful momentum, as can be heard on "Trigger Me".
"Hush Hour" keeps the rhythmic pressure on, while warm pads and nagging synths ricochet back and forth off the beat. "Carrying Away" throbs in orderly fashion with a sinister underbelly growling in the background.
The mood-changing dynamic is what makes this song engaging, and it's done with a very clear sense of purpose. "Waste Yourself" continues an intriguing and thought-provoking sonic narrative, and is exactly the point where Mangy Tomkaz showcases his cinematic-styled prowess.
"Strange Place", again highlights all of Mangy Tomkaz's storytelling skills through music alone, as he creates an intense and immersive electronic production. Both this track and the closing piece, "Please Feel", Mangy Tomkaz paints emotional, transporting and atmospheric images that will leave a strong impression on audiences. These final tracks are ethereal and surreal affairs, full of otherworldly beauty, truly eliciting emotions in listeners on a human level through perfectly crafted sonic experiences.
Overall, the EP "Yb It", is a true work of independent musical art. This isn't just another collection of songs, it's a full-on trip through Mangy Tomkaz's musical mindset. As an entity, it provides a seamless transition through the different styles he is capable of delivering.
Mangy Tomkaz has made it look remarkably easy and authentic in the process, without any miss-steps. From dancefloor bangers, to affecting ambient textures, Mangy Tomkaz is extremely well versed in his craft, and he is not afraid to show it!
OFFICIAL LINKS: YOUTUBE – SPOTIFY
Please follow and like us: