From Prince George, VA USA, Kurt Raburn is solo artist, performs all tracks on his songs. A drummer of several local bands in VA since 1999, Kurt started putting together songs written over the years, and began releasing demos, and singles in 2012. He released his first EP "Roller Coaster of Highways" in 2014, and now follows it up in 2016 with his new EP "Days of Vanity".
The amazing lyrics and incredible music combine to make this EP one that deserves a permanent place in your media player. Kurt Raburn has poured his heart into "Days of Vanity", and it shows…all 4 songs reach out and draw you in as soon as you hear them. Growing from acoustic roots, Raburn has turned out a recording that hits all the right notes at all the right times.
The EP is a great mix of hard-edged, driving acoustic rock and heartfelt, introspective songs. All of which allow the listener to bring their experiences and emotions to the EP and connect in a very powerful way to the songs. "Days of Vanity" is full of not just catchy tunes, but lyrics that are poignant and meaningful. The result is an EP that you can listen to straight through and experience pretty much the entire emotional gamut.
The true test of great music is whether or not the artist can make you feel what he is feeling. Kurt Raburn succeeds and draws you into his own world, plays with your emotions, makes you feel what he wants you to feel, and leaves you with the sense that his music isn't just relating his stories, but is relating stories that all of us can relate to. Where so many others fail, Kurt Raburn succeeds in really talking to his audience.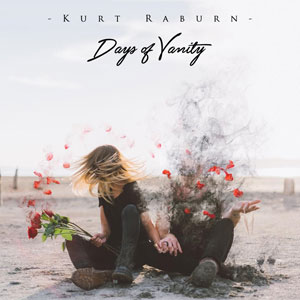 Every song is polished, every song is catchy, but even better, every song has that same balance of harmony, melody, and great writing that mark talented artists. It is even hard to choose favorite tracks, as all 4 are impressive, from "Days of Vanity" and "To Know You" to "They All Bleed" and "My Back Pages", the listener is captivated by Raburn's inner thoughts and emotions, as the feelings conveyed in each song come across with uncanny power.
Catchy music and melody, thoughtful lyrics and a killer vocal delivery – mixed with both acoustic and electric instrumentals makes for an ear-pleasing sound. In a world with so many different dime-a-dozen indie and alt rock bands, Kurt Raburn is a diamond in the rough.
This is, quite simply, beautiful music. There's been so much baggage hung on the whole alternative music scene it's refreshing to see a return to the basics of harmonious composition with plenty of texture and tone. There isn't a bad moment anywhere. Not one bit of sappiness, annoyance, excess or any other of the failings that have doomed countless of promising recordings. In a nutshell, if you love music, "Days of Vanity" quite literally has everything you want.
OFFICIAL LINKS: BANDCAMP – SPOTIFY – YOUTUBE
Please follow and like us: