In the midst of the thriving musical tapestry of Kansas City, Missouri, singer-songwriter Allen Brooks emerges as a luminary figure, firmly establishing himself within the resolute realm of authentic Americana. At the epicenter of his musical journey stands the evocative single "Dreams Of Make Believe," a testament to Brooks' profound lyricism and soul-stirring melodies. With a trusty acoustic guitar in hand, multi-instrumentalist Allen Brooks, serves as the creative nucleus of the single, channeling his songwriting brilliance to weave a narrative that delves deep into the essence of dreams and imagination. It is through his lyrics that he provides an emotional anchor, forging a connection that resonates with listeners on a profoundly personal level.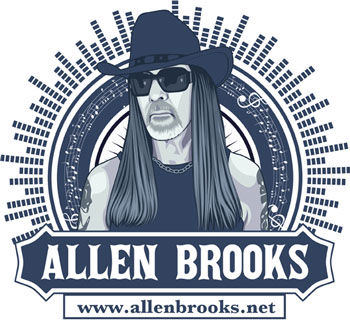 Brooks' proficiency as both a songwriter and producer shines brightly on this track, endowing it with a raw, authentic Americana sound. The authenticity in the songwriting is mirrored in the production, creating an immersive experience for the audience. Adding to the allure of "Dreams Of Make Believe" is the resonant voice of singer Tim Patterson, whose heartfelt and precise delivery encapsulates the very emotions that Allen Brooks sought to convey through this piece. Patterson's vocals carry the weight of the narrative, making each line an emotional journey for the listener.
If we were to imagine a hypothetical musical rendezvous where the legendary Waylon Jennings, Willie Nelson, and Tom Petty convened for a weekend, it might just yield a creation akin to the sound and atmosphere that "Dreams Of Make Believe" encapsulates. Allen Brooks emerges as a modern embodiment of classic American music; his compositions are a synthesis of tension, sensitivity, intricate band interplay, and robust musicality, all of which are brilliantly showcased in this single.
The remarkable ensemble of musicians who contributed to "Dreams Of Make Believe" include Tim Patterson on vocals (USA), Gabo Agustin on piano/organ (ARG), Mason Rosenfeld on drums (USA), Chris Cassar on bass (UK), Fabian Bruck on acoustic guitar (DE), Ibnu Hadi Darmawan on lead guitar (IDN), Kristaps Rullis on pedal steel guitar (LVA), and Francesco Renna on harmonica (ITA). This diverse lineup adds depth and diversity to the sound, enriching the composition with their unique talents.
Notably, Allen Brooks also took on the mantle of producer, exemplifying his multifaceted musical prowess, and Michael DiVestea, a skilled engineer, ensured that the technical facets of the song were impeccably executed. Together, they crafted a sonic masterpiece.
A bit of insight into the artist himself reveals a rich tapestry of experiences and contributions to the music world. Brooks' journey, rooted in Grandview, Missouri, commenced after his dedicated service in the US Navy. He then embarked on a remarkable odyssey as a professional musician, affiliating with several notable bands, such as 'Fiancé,' 'Bishop Steel,' 'Roxx Gang,' 'Mojo Gurus,' 'The Blessed Virgin Larry,' 'Satisfaction' (Rolling Stones Tribute Band), 'Armure De Ruisseaux,' 'Brick Top Social Club,' 'Jett Blakk,' and 'A Circle Of Faith.' Through these affiliations, he graced stages nationwide, sharing them with celebrated artists like Dr. Hook, The Kentucky Headhunters, Steppenwolf, Foreigner, Head East, George Lynch, and many more.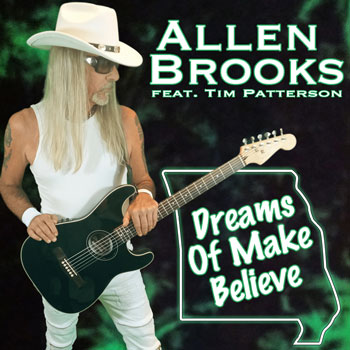 Moreover, his accolades include an endorsement by Rondo Music for Agile Guitars and his work with UAFF News / UAFF Films, as well as his education at the New York Film Academy. In 2012, Brooks produced the music video for Dwight Yoakam's "Waterfall" and contributed to the animation for "Movie On A Stick" in 2013. Beyond his musical endeavors, he made a significant impact on the lives of animals, operating a dog rescue turned animal shelter called House Of Hound, saving over a thousand dogs in rural Missouri. He also graduated with honors as an Assistant Veterinarian from Ashworth College. In the face of adversity, Allen Brooks overcame a challenging health issue, demonstrating his resilience and determination.
"Dreams Of Make Believe" unfolds with poetic finesse, narrating a story that begins in Kansas City. The song's evocative lyrics paint a vivid picture of a life lived in the heartland, where an ice-cold beer, old friends, and a pickup truck are companions along the journey. The lyrics convey a sense of purpose and planning, a life that had its course altered when love entered the picture. The dreams of make believe, sometimes dismissed as mere fantasies, come to fruition. They manifest in the form of a powerful love story, one that transcends the years of tears and heartaches, growing stronger through trials and tribulations. The bond is forged, almost paradoxically, in the crucible of burning sin, portraying the depth of passion and connection that weaves through the narrative.
The song's profound lyricism is further accentuated by the recurrent motif of an angel sent from the heavens above. The haunting cries in the night, the emotional turmoil, and the sense of a young night all contribute to a palpable sense of yearning and longing. It's a story of dreams, desires, and the power of love, all set against the backdrop of a musical journey in Kansas City.
In the closing verses, the lyrics portray a scene of musical aspirations and the allure of fame, as guitars are strummed and dreams of becoming big stars are chased. It encapsulates the essence of the American dream – one of relentless pursuit and unwavering determination.
In conclusion, "Dreams Of Make Believe" is a triumph, a musical journey that transcends the heartland of Americana and captivates the listener with its evocative storytelling. Allen Brooks' songwriting prowess, production finesse, and the collaborative efforts of an exceptional ensemble of musicians converge to create an authentic, emotive, and timeless piece of music. This single affirms Allen Brooks' place as a class act in the world of music, and it serves as a testament to the enduring power of dreams and love. Indeed, as the lyrics proclaim, "Dreams Of Make Believe sometimes come true," and in this case, they truly do.
OFFICIAL LINKS:
Website: https://allenbrooks.net/
Apple/iTunes: https://music.apple.com/us/artist/allen-brooks/361309405
Spotify: https://open.spotify.com/artist/4SwGWYZAYUZ04N3nompUyN
YouTube: https://www.youtube.com/channel/UCOolMDn61XQ8x_xkKuqVmQw
Please follow and like us: