Ka$hMeer was born and raised in Long Beach California and also grew up in Northern Cali. A huge fan of music, he fed his passion with artists such as 50 Cent, Lil Wayne, and others while growing up. Skeptical about doing music previously, the pandemic offered him the opportunity to ponder the question: "Why not?" Ka$hMeer has not looked back since, dropping two EP's and a series of singles in the process. Signed to the rising Play2Win record label, his music can be found on all major music platforms.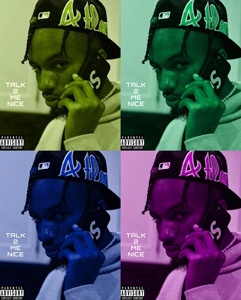 Backed by exquisite production and full of insightful verses, this emcee's tracks are undeniably interactive and memorable, and as a performer on the mic, Ka$hMeer is positively captivating. Currently he has his brand new single out, entitled "Talk 2 Me Nice".
His will to blend solid rhymes, with a smooth flow and a vibe inducing piano-driven beat gives him that extra edge he needs to really stand out in in a region oversaturated with extraordinary rap stars in the making.
Ka$hMeer seemingly positive outlook on life, his emphasis on individuality, and perceived purity of human character comes shining through in his music. Jones strives to bring a fresh and lyrical spin on Cali's renowned hip-hop grooves, without leaving any of its core features behind.
So right of the cuff, you should know that "Talk 2 Me Nice" slaps with head nodding momentum. The resonant piano motifs ride a steady beat and rumbling bassline, forming an impacting foundation for Ka$hMeer's verses.
Ka$hMeer's style here, is a mix of beloved old school hip-hop, as well as a kick of contemporary underground and trendy new wave elements that let him broaden the realm of customary, current hip-hop production and delivery styles. You can tell that Ka$hMeer is busy letting his creative juices flow. On "Talk 2 Me Nice" he expresses his personal and effortless style, without any hesitation.
Rap seems to move more quickly than virtually any other genre of popular music, blink and you will miss a whole wave of promising new artists. So when someone like Ka$hMeer comes along, you need to take notice before it's too late. Similar to all really outstanding rappers of the day, Ka$hMeer brings a taste of nostalgia, a flair for modernism, and an infectious delivery that's nearly impossible not to get sucked into.
"Talk 2 Me Nice" perfectly serves as a short-and-sweet primer, while Ka$hMeer steadily gears up for maybe a full-length project in the near future, and judging by what we're hearing here, hopes for an outstanding project are extremely high. His bold and clear delivery will certainly win over new fans.
Moreover, Ka$hMeer never sounds indebted to his influences, standing firmly in his own style. The end result is, no matter in which direction he takes any of his songs, it never sounds like any one artist in particular, besides Ka$hMeer himself. In a highly cloned musical climate, that's a notable exception indeed.
Follow Ka$hMeer on IG @Kashmeer777, and also check out the Play2Win Vlog https://youtu.be/p1kEToaplo0
Please follow and like us: