Hundred Round Kado is a rap and hip-hop artist based in Boston, Massachusetts. On the scene since 2009, Hundred Round Kado has released a number of projects including "King of the Triple Beam Volume 1," "Kokaine Fever," "King of the Triple Beam Volume 2" and "Marilyn Gunroe" under the artist name Ricky Gramz. His rebranding as Hundred Round Kado has allowed him to celebrate his Haitian roots and connect more deeply with both English speaking and French Creole speaking audiences. His latest projects "Alive At A Wake" and "Whistling Through The Graveyard" are available now, the release date for a new project, "White Kargo," will be announced soon. "Spin The Block" will be the first single released from "White Kargo".
On his latest track, Hundred Round Kado sounds like an underground titan. He gets up front and confrontational with a fiery delivery, spitting laser sharp rhymes over an intensely percussive minimal beat. Brutally beautiful, Hundred Round Kado's rugged flow and righteously raging rhetoric connects with the production perfectly.
His raw and gritty voice in combination with his pointed lyrics makes for a great listening experience on "Spin The Block". If your head isn't furiously bobbing to some of this groove, you're either tone deaf or just aren't a fan of hip hop.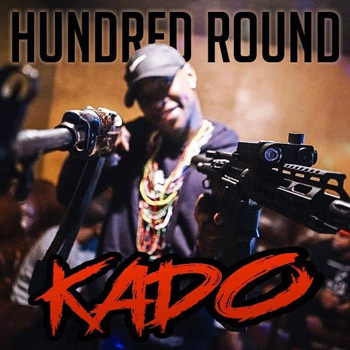 Hundred Round Kado is the real hip hop rapper incarnate. His ability to utilize imagery just from the ambience of the song is amazing. Though the beat alone is so hard hitting it's sure to get your neck sore. Hundred Round Kado enhances the experience by riding the rhythm flawlessly, as he often does on almost any track.
His style and voice is similar to a gritty machine-gun flow, but so much more nuanced. Hundred Round Kado's relentlessly brusque and rugged rhyme style is what ultimately drives this track to another level.
"Spin The Block" continues to prove Hundred Round Kado's mature sound, offering something new yet familiar for fans. What I like most about this recording is that in span of two and a half minutes, it showcases all aspects of Hundred Round Kado's rapping ability.
From the nuanced voice, to the unhindered flow, and the complex rhyme scheme, you get the impression that he is an underground heavyweight. In fact his flow lends him an air of confidence well-deserved for his time, effort. He knows how to go hard over a beat that's equally as hard.
The blend between Hundred Round Kado's methodical raw and rapid fire voice and the rugged percussive beat is really mesmerizing. "Spin The Block" will undoubtedly have you nodding your head contemplatively, while attempting to dissect Hundred Round Kado's many references, as he oscillates between lyrical imagery.
His material isn't lighthearted, and he can throw down some tough lines, as he weaves a compelling narrative. Regardless of whether you agree with his ideas, or like his style, you have to give Hundred Round Kado full credit as a skilled craftsman. And that's how artists earn real respect in the game.
Follow Hundred Round Kado on Facebook, Snapchat (@the100roundkado), YouTube, Twitter (@100roundkado) and Instagram (@ hundredroundkado).
OFFICIAL LINKS: FACEBOOK – YOUTUBE – SOUNDCLOUD
Please follow and like us: