Chicago, the vibrant epicenter of rap and hip-hop culture, has consistently produced artists who have left an indelible mark on the genre. Amongst the city's rising stars, OG Donnie3x shines as a testament to raw talent, unwavering dedication, and a burning desire to be the best. Born on October 25th on the South Side of Chicago, Donnie Ben Johnson Jr., professionally known as OG Donnie3x, is making waves with his latest 3-track single, "Krazy 3 – Single." Let's delve into the essence of OG Donnie3x's music, his journey, and the brilliance that sets him apart.
At just 29 years old, OG Donnie3x hails from the Chicago suburb of Joliet, an artist brimming with prodigious potential. His love affair with hip-hop began at the tender age of 19, but it was at 24 that he decided to take the craft seriously, vowing to chase his dreams relentlessly. His journey is one of self-belief, an unwavering trust in God, and an unyielding determination to become the best version of himself.
A name carries a legacy, and OG Donnie3x's moniker is no exception. He chose to adopt the name "OG Donnie3x" as a tribute to the three Donnies in his family: his father, his Uncle Donnie from his mother's side, and himself, Donnie Jr. A heartfelt nod to his roots, the change represents his connection to family and the passing of his beloved Uncle Donnie. While he may now go by OG Donnie3x, he reassures fans that "Bandannamann" will forever be a part of him, an homage to his signature style and persona.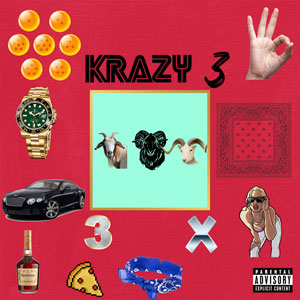 OG Donnie3x's latest offering, "Krazy 3 – Single," is a 3-track project that showcases his evolution as an artist. From the very first track, it becomes abundantly clear that listeners are in for a thrilling ride, defined by reliability, authenticity, diverse flows, and intricate rhymes. The album is a sonic journey that encapsulates the essence of Chicago's rap culture, and OG Donnie3x is the charismatic tour guide.
One of the standout qualities of OG Donnie3x is his resonant and authoritative voice, which effortlessly cuts through the expansive beats he's chosen. Each track unfolds like a gripping narrative, and he proves to be a masterful storyteller, answering the 'why's, 'how's, and 'who's of each tale with precision and emotion. The rapper's lyrical prowess shines through, with unforgettable flows and clever punchlines that keep the audience engaged from start to finish.
"Krazy 3 – Single" is a testament to OG Donnie3x's dedication to his craft and his commitment to delivering quality music. It is an album that rewards the listener, offering a rich and immersive experience that underscores the depth of his artistry. In a world where authenticity is a rare gem, OG Donnie3x stands tall, offering a glimpse into the heart and soul of Chicago's rap scene.
OG Donnie3x is not just an artist; he is a force to be reckoned with in the rap and hip-hop landscape. His journey from the streets of Chicago to the recording studio is a testament to the power of self-belief and relentless determination. "Krazy 3 – Single" is a statement—a declaration that OG Donnie3x is here to stay and is poised to refine his game.
With every track, he cements his place as one of Chicago's most promising talents, a name that deserves a spot in every hip-hop enthusiast's playlist. As he proclaims confidently, "Better than Your Favorite Rapper," OG Donnie3x's music speaks for itself, and it speaks volumes.
OFFICIAL LINKS: https://music.apple.com/us/artist/og-donnie3x/1623011737
Please follow and like us: