A screenwriter studying at Emerson College, Eli Piccone writes, records, performs, and produces his own music with the support of chosen gifted singers who vocally embellish his compositions.  Eli, who parsimoniously adds his own voice into some tracks, has been writing songs since he was ten, and considers it a natural outlet for him, both emotionally and conceptually.  The 'Ellipses' EP, is his official debut.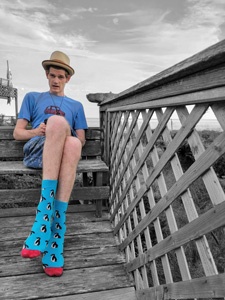 Alongside Eli Piccone, on the 'Ellipses' EP we discover the voice of featured artist Ana Luna. It's not merely that Ana has a beautiful voice, though she does, it's how she deploys it. She can do breathy and quiet, she can do soaring and glorious, and everything in between, which perfectly suits Eli's variegated compositional stylings. Eli and Ana leave their mark on both electronic and acoustic driven soundscapes with expansive, atmospheric and recognizably clean production.
The 'Ellipses' EP is so fluently splendid that it can be difficult to explain exactly why. It functions exquisitely whether you are listening intently, and even when you are not, which is a marvelously unusual characteristic. This element and many more, lend the record a natural quality, as it propels beyond the habits and traditions of mainstream music with many intriguing sonic twists and turns.
Eli Piccone is well versed in the mood and texture of music hence this recording is immaculately layered. It seems like he went out of his way to create a timeless sound that works on a deeper sensorial level, going beyond the body and mind. From the opening track, "Laced Words", the sound is beautiful, warm and transcendent, with the airy vocals, bringing an element of mellifluous bliss.
"The Fine Line Between Addiction and Dependency" is even more sublime sonically, driven by a steady beat, gently strummed guitars and the echoing vocals which pull you in. "Ode to Anxiety" throbs with an urgent electro momentum, while the organic sounding drums sit dominantly in the mix, underscoring the deeply resonating vocals. This music puts you back in touch with parts of yourself you thought you had lost.
"Intermission…" flows smoothly from the previous track, and is quaintly cinematic in its instrumental approach, with many flourishing turns. This leads us to "Lopsided Lady", which is magnificent in its sonic elegance. Acoustic guitars, swelling keys, and another stunning vocal performance by Ana Luna pushes this song to a superior artistic level. Despite a sense of sonic restraint, there is still an uncanny fullness of sound. Everything on this track sounds natural and essential to what Eli Piccone is trying to accomplish with his music.
The intro to "Cadmium Coffee" is sung by Eli Piccone, before Ana Luna steps in to guide the rest of the song to completion. "Quill" is one of those songs that could comfortably hold its own in a number of musical eras from past to present. The magic is in the charming melodic and harmonic interactions, which are incredibly timeless and all embracing. The EP closes with the brief interlude "Bonus Track: Insert Name" which features a humorous vocal by Eli Piccone.
The joy of the 'Ellipses' EP is that it creates a welcome space for both artist and audience, and steadily turns into a captivating listening experience, drawing attention to the superb aural qualities of each track, as well as the thoughtful lyrical content they are built upon. Eli Piccone will be one to watch closely in the future.
OFFICIAL LINKS:
Exakip Records Instagram:
https://instagram.com/exakiprecords?igshid=YmMyMTA2M2Y=
Eli's Personal Instagram:
https://instagram.com/eli_piccone?igshid=YmMyMTA2M2Y=
Spotify:
https://open.spotify.com/album/5y1jLblGsIB5JWQzNt8hQ6?si=3hdiRZzfQqKIonTny1SCOA
Apple Music:
https://music.apple.com/us/album/ellipses-ep/1637782077
Please follow and like us: