Element J's rise toward his latest single "Beyond Myself" feels inevitable, as the artist and producer has been laying the groundwork for his success across a number of single releases. Laced with unwavering confidence and resonant vocals, his beats are infectious and his flow melodic and hypnotic. Element J's voice and vibe inducing demeanor are both large and fill whatever track he chooses to perform on. His releases have an emphasis on melodic wordplay and immersive soundscapes that create specific moods.
Element J is as exciting and entertaining as he seems humble. Part of his signature sound is blending rap with melodic vocals, which he executes to perfection on "Beyond Myself". It's no secret that melodies and catchy hooks are currently ruling the urban genre, but few have fully mastered the art. Element J is amongst the few underground sensations with an overpowering knack for infectious melodies. By blending memorable lyrics with twisting vocal lines, Element J puts his talent-set on full display.
"Beyond Myself" has a breathless cadence and flows to it that creates a very dynamic synergy, as Element J rides the bass booming beat effortlessly. Captivating listeners with his honest lyrics and soul-bearing sound, Element J possesses all of the necessary elements to become one of the most prominent and quickly accomplished rappers if he sets his mind to it. Truly multifaceted in his capabilities, Element J has both a rhythmic rapping aptitude and a powerful singing voice that lures listeners in with his intrepid ability to tell a relatable and heartfelt story.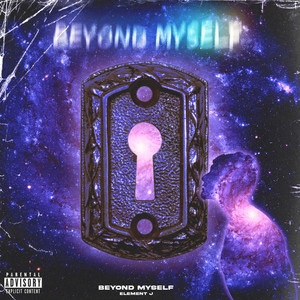 Element J's concise catalog of songs shows every angle and capability of his skillset thus far.  And they don't hit just one emotion or vibe, but rather a spectrum of them, highlighting the artist's ability to create a variety of moods and nuances with his songs for essentially any occasion. Element J lets loose on "Beyond Myself", as he includes emo and alternative flavors in the song.
Element J also gets to shows off his breath control and vocal capabilities on the song, by slowing down and speeding up, thus creating an infectious edginess and unpredictability in his delivery. Ultimately, Element J is breaking through the ceiling of traditional music with his versatility in content, substance, wordplay, and thought-provoking melodies.
Through it all, Element J music shows thoughtful reflection, expert structure, and dedication to his craft as a premier independent artist and storyteller of the first degree. Element J is part of a generation of hip-hop that prides itself on going against the grain and bringing innovation to the genre. They are new talents who are rewriting their way to success and greatness thanks to the introduction of the different sounds that are catching the world by storm.
Element J is bound to be amongst 2022's more noteworthy artists in his field. There is clearly a demand for the kind of new wave artistry he brings to the table, and "Beyond Myself", may be his best release to date. Having said that, with music it is often best to not overthink things. Trying to dissect what makes an artist so impressive or what exact sound they are making often takes away from the intuitive magic, something Element J has in bucket loads.
OFFICIAL LINKS:
Instagram: @ElementJ_
Tik Tok (175k followers): @ElementJ
Soundcloud: https://soundcloud.com/elementj
YouTube: https://www.youtube.com/@elementj222
Please follow and like us: