If you ask the duo of Kali Ma & Cypher the Avatar, better known as CxA what the goal of their music was, their reply would probably be, it's to make a place where all listeners can come to feel safe and relieved from their pain, anxieties, and all other stresses in life. Because that's exactly what their Cloud Rap single, 'Peaches n' Sage' sounds like. Cypher the Avatar is one of the best alternative rappers mainly because of his presence. He's confident but not cocky; honest but not vulgar. Cypher comes across as someone who is genuine and sure of himself, and his raps reflect that. His vocal style can be appreciated by anyone who likes mainstream rap, but his music still has that spacey sound that cloud rap is known for.
If you've been living under a rock and still have never heard of cloud rap before, it just might be your new favorite subgenre of hip hop. To give you a hint, if you know what sad boi rappers are, you already know half of what you need to know about cloud rap.
Musically, the genre is marked by spacey, hazy sounds, lo-fi sound quality, and a retro Myspace kind of vibe. 'Peaches n' Sage' is an eclectic track that combines the haze of 808s, trap percussion, and even some nocturnal R&B and electro-chill.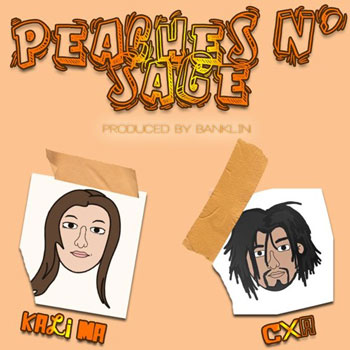 Kali Ma & Cypher the Avatar brings to the table the epitome of this niche that's been under so much scrutiny recently. And, to be honest, they do a great job of exemplifying all of the redeeming qualities of it. The aforementioned production value not only is on point, sprinkled with layer upon layer of spacey pads, and melodic bells, but blends into something really gorgeous.
A hypnotic and fitting foundation for Kali Ma to lay down her airy and ethereal vocals. In a scene where rap with a strong melodic side is primarily embraced, Kali Ma's voice provides an essential element to this song.
Cypher the Avatar vocal style is very contained and unassuming on 'Peaches n' Sage', but that's not a bad thing. It's this laid back style that makes him one of the better sounding cloud rappers right now, although he's been around in alternative rap for a while.
His delivery is very matter-of-fact, almost like he's talking. He is very sincere and he doesn't rely on pure bravado like other rappers do. His lyrics are also deeply personal and, well, melancholic in this case.
While lyricism clearly isn't a focal point on a track like 'Peaches n' Sage', there are still hints of greatness in some of Cypher's rhymes. He has always had a knack for constructing music in which nearly everything he says is quotable. Cypher the Avatar is a technically impressive rapper when he wants to be – running through his catalog, you'll notice that his modus operandi calls for a variety of flow schemes, hooks, and ad libs.
Instead here, the vocal haze needs to stands out well, which is what a true cloud rap song should accomplish. That being said, this is yet another overall solid display of what Cypher the Avatar is, and can bring to the table. Peaches n' Sage' Produced by Banklin is the first official track between Kali Ma & CxA, and intends setting the stage for their upcoming projects.
OFFICIAL LINKS: SOUNDCLOUD – INSTAGRAM – TWITTER – INSTAGRAM
Please follow and like us: