When Countless Thousands released We're Just Really Excited To Be Here back in 2011, I know I wasn't the only fan who breathed a massive sigh of relief. After years of puzzling, strange and downright embarrassing albums from punk bands, it seemed the genre had found its footing again and were ready to reclaim its place in the modern musical spectrum. While I was thrilled with that album, it also caused me a bit of trepidation.
Was it a fluke? Could Countless Thousands really remain consistent and maintain that winning formula? Now with the crowd funded "You're Goddamn Right", the band's new EP, it's safe to say that my fears have been put to rest. Countless Thousands is officially back and this time they're bringing anthemic mayhem and big melodic fun along with them.
Right off the bat we're treated to "Webster's Dictionary Defines Marriage As", complete with crunchy riffing guitars, driving drums and those Countless Thousands melodies we've come to know and love so well.
It's not that "You're Goddamn Right" is just some piece of epic baddassery, but rather that it feels like the missing piece to what makes Countless Thousands a timeless classic feel-good band with so many different endearing qualities that you simply can't help but dig them.
Danger Van Gorder (Vocals, Guitar), Davey Munch (Bass), Jon David (Percussion) and Light Return (Guitar, Vocals) – no gimmicks, no crazy experiments, just these 4 rockers doing what they do best.
The performance of bass and drums on "We've Got A Dress Code" stand out in the best possible way throughout. Jon David brings it all to the table and has you air drumming. As for bass, Davey Munch's bass tones just rock. It is apparent on every track he put lots of work into this record.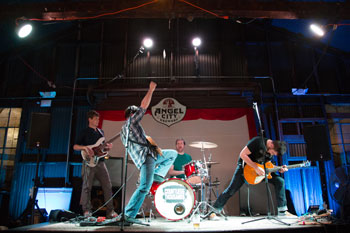 The emotional beauty, the harsh nakedness and razorblade rhythm cuts deep on "The Asskickers' Union". This song makes you want to sing along, not only because of the melody (which is outstanding), but because you feel the unbridled energy.
The geeky sensibility, the happy-go-lucky charm, together with the anger and energy thrown on top of it make "Gang Fight" another standout track, and a perfect vehicle for Danger Van Gorder's exuberant vocals. When this track soars and climaxes, Danger has the power to show us what he feels inside the music.
"You're Goddamn Right" is rampant with deviously original songwriting and stunning performances. The riffs are heavier, the production is grittier, and the guitars squall and screech throughout nearly every song. Amongst all of this, there is plenty of melody and poignant lyrics that cut like a knife.
Each track features a memorable melody and a monster chorus that will have you screaming it out at the top of your lungs. A lot of bands who enjoy momentary success with a novelty single and gimmicky film clips never make it past their first album.
Not only did Countless Thousands get past their first album, but they get their latest recording totally crowdfunded by fans – which means they finally find the audience they truly deserve!
OFFICIAL LINKS: BANDCAMP – YOUTUBE – SOUNDCLOUD – FACEBOOK – TWITTER
Please follow and like us: