Allen Cuffey never sits still, never relies on past glories, yet he never wavers from his original musical goals. He hits the bulls-eye with his latest release, the single entitled, "Make Up My Mind". His sound is always melodic, never gimmicky, and he leads a tight, no-frills acoustically-driven rhythm section. The song delivers flawlessly. There is nothing innovative or unusual about "Make Up My Mind", it's all been done before, but few have done it as well, or managed to sound so distinctive as Allen Cuffey.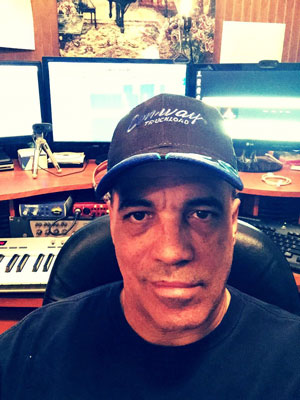 I get joy from good music, and I feel great when heartfelt emotions can be expressed in any type of music. The music here shows a serious knowledge not merely of rock, pop or the blues, but of deeply-rooted gospel and R&B influences. This is matched well with the personal details Cuffey adds to his lyrics. Moreover, from my perspective, Allen Cuffey is the consummate professional and a most courteous musician who has no problem with the spotlight being on someone else – a rare quality in today's music business.
Allen Cuffey is as mighty with the pen as he is on his instruments. The song has got a lot of energy, powerful drums, rich synth bass, as well as notable chord progressions and vocals. It is "a very richly" recorded track which outputs a very essential sound, standing out in all avenues. "Make Up My Mind" is an up-tempo number that will guarantee to get you moving. Aside from the distinct acoustic guitar tones, Cuffey has ability to sing in such great harmony and melody and not miss a note.
Allen Cuffey is a passionate player, with a great feel for pacing his songs just right – nothing too fancy or flashy, just straight ahead easy, comfortable music. Each new release has its own distinct sound.  His playing is a statement; emotionally mature and marked by craftsmanship. It does what music is supposed to do, express feelings that words cannot, displaying a flow and groove that is almost always intoxicating.
[quote bgcolor="#dd9933″]MORE ABOUT: Allen Cuffey is a Retro Rock / Pop Recording Artist / Engineer based in Kansas City Missouri, a graduate of St. Joseph's College NY, The Recording Engineers Institute Islandia NY. Allen is a multi-instrumentalist / engineer who composes, performs, records and produces his own music. [/quote]
OFFICIAL LINKS: WEBSITE – BANDCAMP – SOUNDCLOUD – FACEBOOK – TWITTER
Please follow and like us: